#AskACurator Twitter Trend : Most Popular Tweets | United Kingdom
Last chance to get your questions to @RCT ahead of their #AskACurator session!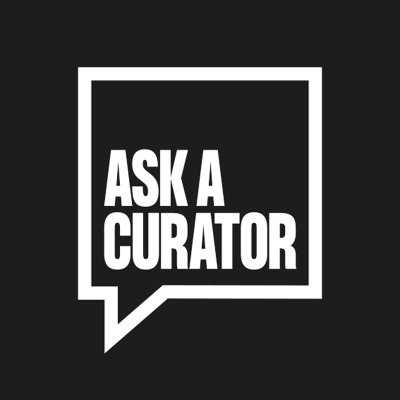 #AskACurator on Twitter
Tincture Of Museum ()
Just like to point out that museum collections and museum cake cake very close 🤔 #AskACurator
MuseoCerralbo ()
Ayer tuvimos un #AskACurator muy interesante, muchas gracias a todos. Si os habéis quedado con ganas de más, os invitamos a leer todas las preguntas y respuestas que hemos recogido en nuestro destacado especial de Instagram. Enlace 👉
Museo Sorolla ()
Os dejamos por aquí la pregunta que nos hizo ayer el @MuseodelTraje por el #AskACurator 😊👇
AdlerPlanet ()
Q: Do you have star charts from different locations and time periods, and if so do they vary in info? A: We have star charts, atlases, and globes from different cultures and parts of the world. Though they all refer to the same sky and #AskACurator (1/2)
Charles M. Schulz Museum ()
Q: Will you guys ever do a collaboration for clothing, besides kaws and Uniqlo? A: The Schulz Museum doesn't work on that end of things, but we do help sometimes when brands want to access archival materials and objects for inspiration and reference. #AskACurator
Charles M. Schulz Museum ()
This strip, (with an early appearance of Lucy), is *I THINK* the first appearance of the phrase. (Peanuts from 6/6/1952) #AskACurator
Getty ()
...Someone later wrote to me saying they had been on the tour and wanted to learn more about how orphans were chained to desks to write out manuscripts in monasteries! —Beth, manuscripts curator #askacurator (2/2)
Charles M. Schulz Museum ()
Schulz said about the messy character, ""Usually, I just run out of ideas for him, but somehow he keeps hanging in there." #AskACurator
Getty ()
According to the medieval bestiary (a collection of animal stories, true and untrue), hyenas have an insatiable desire for human corpses—maybe you could release them on zombies and see what happens? —Beth Morrison, manuscripts curator #askacurator
AdlerPlanet ()
A: ...in a round case comprising two hemispherical halves, whose interior shows the southern and the northern constellations respectively. The case of our pocket orrery has only one hemisphere showing the northern constellations. #AskACurator (2/3)
AdlerPlanet ()
Q: What is a pocket planetarium?? 🌎 A: Our pocket orrery combines elements of two types of instruments that were popular in the 18th century: the orrery (a mechanical model of the solar system) and the pocket globe, which consists of a terrestrial #AskACurator (1/3)
Getty ()
In my experience, people (including all my relatives!) expect interior decorating advice when they find out you're a curator. It's a big pet peeve. They also assume that you make art. Sorry to disappoint! —Scott Allan, paintings curator #askacurator
Postal Museum ()
This mason jar containing the remnants of a Craig, Alaska post office that burned to the ground in 1931 AKA the Post Office in a Jar AKA the remains of our plans for #AskACurator #AskACuratorDay
Guggenheim Museum ()
💬 It's #AskACurator Day! Watch this space today to hear from three Guggenheim curators about their career paths, curatorial responsibilities, favorite artists, and much more.

US National Archives ()
Thanks everyone! Hope to see you all in person soon! #AskACurator
Natural History Museum⁷ ()
How do you work with museum collections? Some of the women working as curators, conservators and in other collections roles at the Museum share their career paths and advice for budding museum professionals. #AskACurator
Natural History Museum⁷ ()
When did you decide to become a curator? @NHMFossilMammal Curator @NadWGab thought she wanted to be a lawyer until she studied geography at secondary school. The course opened up to her the world of #AskACurator
Natural History Museum⁷ ()
Some of our most common #AskACurator questions are all about how people can become curators themselves. Museum scientist @Tweetisaurus shared her experiences with us, along with advice for budding palaeontologists:
Petrie Museum ()
For the next hour, our Curator Dr Anna Garnett @Beket_Aten will be taking over our Petrie account! She looks after over 80,000 artefacts in the @PetrieMuseEgypt including the world's oldest-known piece of clothing. What would you like to know? #AskACurator
The British Library ()
It's so hard to have a firm favourite when your collection contains so many amazing sounds. But I've always loved this recording of a woodland in winter. It's atmospheric and a little bit creepy which I just love: #AskACurator
The British Library ()
Today's the day! Our curators Cheryl, Jason and Magdalena are on-hand to answer *your* questions about our collections, starting at 10am. Let us know what you'd like to know #AskACurator 💬
The Royal Family ()
Last chance to get your questions to @RCT ahead of their #AskACurator session!
The Royal Botanic Garden Sydney ()
Developing the amazing plant collection at RBG. In our Sydney climate we can grow so much and have access to a huge range of plants. The people I get to work with are pretty amazing too - @DLaughlin21 #AskaCurator #AskACuratorDay
Jacinta Koolmatrie ()
Does your museum still display objects/human remains that communities have asked to be taken down? #AskACurator
Jacinta Koolmatrie ()
Hey #BlakfullaTwitter, today is #AskACurator. So you should definitely tweet some questions to those museums who are holding your ancestors belongings 😉
Rebecca Carland ()
I've taken over @melbournemuseum Instagram account. Head over and ask me some questions for #AskACurator day.
MOTAT ()
A national treasure in every sense. #AskACurator fave collection object.
Museums Victoria ()
Today is @AskACurator day! 🎉 We have a team of curatorial staff and experts on call today ready to respond to whatever Museum-related questions you may have 💁 📷 Cesur Sanli #AskACurator #MuseumAtHome
Auckland Museum ()
Kakapo evolved for 30 million years in a land of avian hunters. Big powerful birds of prey like the Haast's eagle (~16 kg) and the Eyles Harrier (~3kg) hunted from above 1/3 #AskACurator

US Holocaust Museum ()
These artifacts are from Jewish refugees fleeing to Cuba aboard the German ship, St. Louis. It is but one story of the Holocaust. On #AskACurator Day, 9/16 at 9:30 ET, join us to learn more stories of loss, hope, and survival told in our collection.