Benteke Twitter Trend : Most Popular Tweets | United Kingdom
#TOTCRY BONUS POINTS AS IT STANDS 3 - Kane 2 - Bale 1 - Benteke #FPL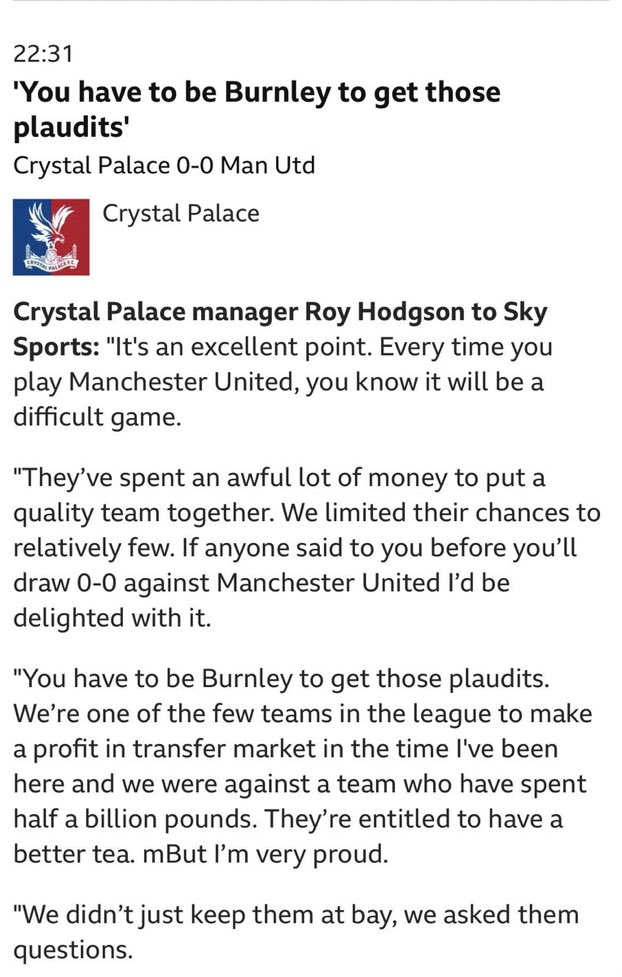 Benteke on Twitter
Greg clark ()
@FTHeritage @FortesGianni Yes it was a very good header but it was unchallenged Sanchez should come back Alderwireld should move forward and both get up and challenge to put off Benteke it was a free header they can both see that cross coming in so bloody move
Cameron ()
I love Benteke and I'm sure all Villa fans do. But why would we bring him back? High wage demands, poor injury record, certainly not as good as he used to be, he'd just end up ruining his reputation here. I love him but we should go for a younger striker who has more to his game
🐐 ()
I love how we didn't cross when we had Carroll & Benteke, but now that we have 5 cm tall attackers we only cross
Nav_is_tweeting ()
Ayew: shit, you scored. You're about to get dropped for 3 games Benteke: FML
James Olley ()
Live piece from Tottenham Hotspur Stadium after #thfc 4-1 #cpfc. This threatened to be a case of history repeating when Benteke equalised but Spurs rediscovered their attacking intent to move closer to the top four. Evidence for grasping the nettle.
Nav_is_tweeting ()
Don't understand why Ayew doesn't get taken off and why JPM can't be used with Benteke.
Ian ()
@MattWoosie Tactical stupidity then? Eze was bossing it! Play Ayew on the left, Schlupp on the right & crosses dry up, just when Benteke scored a cracker! Mind numbing!
Fantasy Premier League ()
#TOTCRY BONUS POINTS AS IT STANDS 3 - Kane 2 - Bale 1 - Benteke #FPL
Reece ()
I'm interested to see Roy's line up against West Brom. Does he go Benteke and Mateta up top? Does he drop Ayew/Eze? #CPFC
Jamie ()
What an incredible performance from Spurs in the second half. I think that Benteke dance celebration must've pissed them off at half time 😂 #TOTCRY
Premier League ()
GOAL Spurs 1-1 Crystal Palace (45+1 mins) Christian Benteke heads home to draw Crystal Palace level #TOTCRY
Fantasy Premier League ()
Goal - BENTEKE Assist - MILIVOJEVIC Spurs 1-1 Crystal Palace (45+1 mins) #FPL #TOTCRY
Notmi Reelnaim ()
@Tactical_Times Benteke for Liverpool under Rodgers. He seemed so obviously not the right style.
Ben Kilbride ()
Rent free eh? Let's see our respective salaries for a kick off. Benteke £120k a week is it?
SPH Selhurst ()
Was good seeing Eze being much more influential on the ball. Thought Benteke had an excellent game #cpfc
Ethan ()
That kinda performance vs the top 6 I'll always take. A Hodgson special Against 18th placed Fulham though, I won't take that
Mr. Dludlu Sir ()
@BuangMak Sa bolela ka Bao ebile 🤣🤣 Kyemetse Benteke to score a last minute goal
Dave a Bitter Bertie ()
Benteke screaming at Van Arnold for not squaring for a tap Like he would have scored into an empty net
LF ()
@arynmatthee @FYPFanzine he literally lost the ball, EVERY SINGLE TOUCH. people need to respect what Benteke brings even without the goals.
Oli ☔️ ()
@CFC_Hazz Bruno places the ball as its only him left on the pitch due to complaining. Bruno does his jump and inshallah but skies it. Benteke goes home but Bruno stays to complain about GK off his line early Retake
Ima ()
@CPFC Game is there for the winning, why don't we take Ayew or Benteke off who are clearly both knackered and give JP some time?
Harry ()
@CFCOli_ Final whistle blows ✅ Everyone gets on the coach to go home ✅ Ref smashes through the door of the coach ✅ 'Penalty awarded for United for Benteke glancing at the referee weirdly in the 24 min' ✅
David Selini ()
Absolutely no reason to have Matić dropping into the 1st line. Leaves MUFC with only Fred (who Ayew handles well) as a pivot but 3 vs Benteke, who hardly presses. As a result, when Matić/Bailly step out with the ball, they have no option to connect with easily. Easy for Palace
DBell7 ()
@Rio__UTD They could play Benteke Zaha Eze Townsend But Roy is too old fashioned
Ethan ()
You know you're a shit club when you play two consecutive games without injury time
TacticFanatic ()
Dean Henderson cross claimed. I promise you DDG stays on his line and Benteke scores from that
Adam ()
@stadio Which transfer are you surprised didn't work out? I always thought Benteke would have suited Hodgson's Palace more than his goal record reflects
Ethan ()
Fog looks unplayable. Stop the game and give the win to the team with the least amount of fouls in this game IMO
Crystal Palace F.C. ()
6: Early chance for Palace. Andros whips in a brilliant cross for Benteke who strikes the volley just over! 🦅 0-0 🦓 #CPFC | #CRYMUN
SPORTbible ()
Crystal Palace XI: Guaita, Ward, Kouyate, Cahill, Van Aanholt, Milivojevic, McCarthy, Ayew, Eze, Townsend, Benteke. Manchester United XI: Henderson, Wan-Bissaka, Bailly, Maguire, Shaw, Matic, Fred, Greenwood, Fernandes, Rashford, Cavani.