Kudela Twitter Trend : Most Popular Tweets | United Kingdom
Lmfao is anyone shocked? I am yet to see a Czech player take a firm stand against Kudela & racism on the whole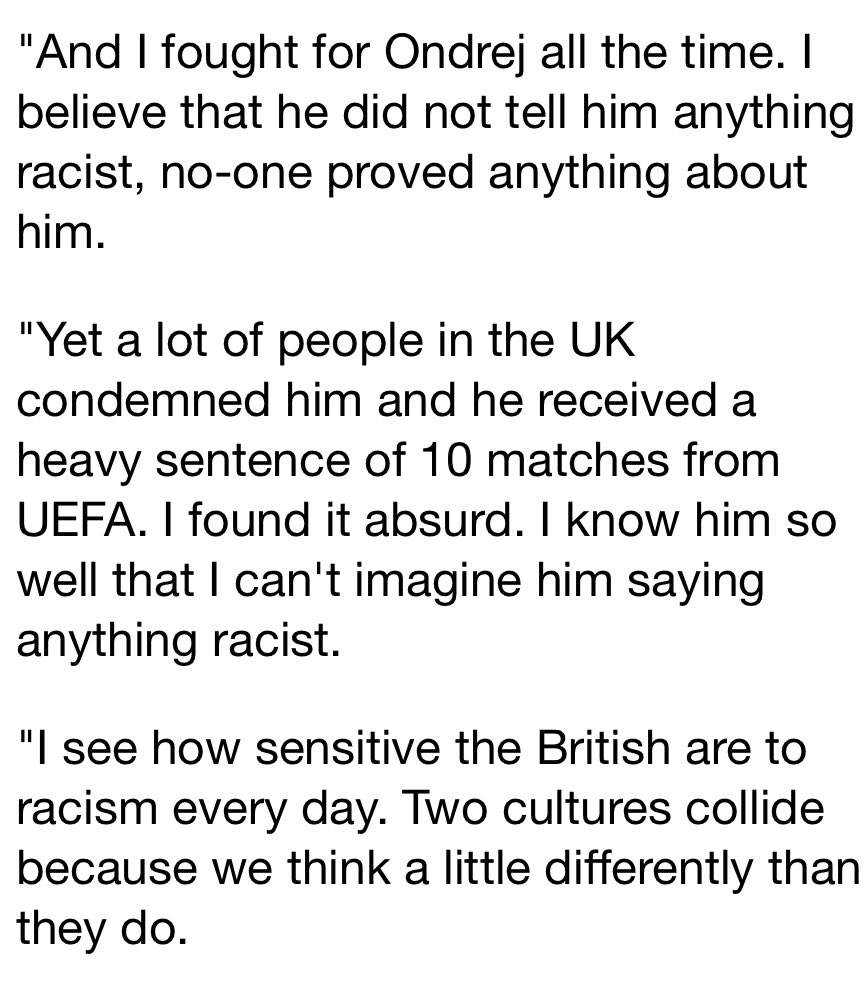 Kudela on Twitter
GordonL5️⃣5️⃣🇬🇧🏴󠁧󠁢󠁳󠁣󠁴󠁿 ()
And how do show proper respect? You earn it, UEFA could have set a precedent with Kudela and hammered him and hammered racism at the same time, The fact they never sent a message of carry on regardless.
🇨🇿 ()
@even_afc Yh man people don't deep that no one bar those 2 guys (Kudela and Kamara) really know what happened so it makes sense to back you close friend.
Tomáš Martinec ()
@JacobSteinberg @hosekj This is a defense of Kudela, not racism. To the same extent your country has difficult experience with colonialism and slavery, and thus is now extremely cautious of any allegation of racism, our country has difficult experience with unfair trials and fabricated convictions.
What are we doing... ()
@moyes_boy I agree. But a lot of his points were controversial (and stupid imo). It's not a good look, especially after the Kudela saga
ㅤً ()
@WestHam_Central Kudela covered his mouth with both hands when he said it, he claims he just swore but if he just swore, why would he cover his mouth? No one else does that? Also he said monkey twice, I doubt Glen Kamara could mishear him twice
Row Z ()
@oliverrrwhu Hi there Oliver. We have cited the original article and the @sportbible article so people can read the quotes for themselves. Nothing has been taken out of context, if anything he goes onto say worse. Don't let your allegiance to West Ham blind you.
J ()
@___Notorious___ @westhamtransfer I'm the same he's a nice guy, but he didn't need to do this interview, the guy has been found guilty of it, it's in the past now and Kudela, And Kamara have moved on from it so I'm confused why Tomas even gave the newspapers the time of day. Gives him a terrible look.
James Morrison ()
@captainstaino @PhilippeAuclair because Scottish teams (both club and international) changed their approach after the Kudela racist incident at Ibrox a few months ago. Quotes by Connor Goldson in this article explain it well.
Pavel Poštulka ()
@radimdolezal @UEFA Po kauze Kúdela jsem UEFA a jí řízený fotbal přestal brát vážně. a jsem v tomuto sportu pod taktovkou této zkorumpované partičky věnuje jakoukoli energii
Ondra ()
@JacobSteinberg And what if you are wrong and Kudela is innocent. Give me proof what exactly Kudela said.
Jay Rattray ()
I'm sure Ondrej Kudela will appreciate us not kneeling against the Czech Republic. 🤬🤬🤬 #TakeTheKneeScotland
Khaleem Azam 🏴󠁧󠁢󠁥󠁮󠁧󠁿 ()
@WestHamMatters The only thing I don't agree with what he's said is saying the ban for Kudela is absurd when he's guilty as sin and been found guilty too! The stuff about the blackboard is just nonsense and soon won't be allowed to say anything like that, crazy world!
Deník Sport ()
"Nyní nás čeká ustavení panelu rozhodců a podání komplexní obrany klienta, poté se vyjádří UEFA a následně by mělo proběhnout ústní jednání," uvedl advokát René Cienciala 👇
Davie 🇬🇧 ()
@J1872T Will be the Czechs ransacking the place looking for us.😂 they have promised blood for Kudela
Mr NBT ()
I hope the black players at West Ham and even the rest of the squad sees him in a different light now. Basically an enabler to Kudela's racism
Craig Anderson ()
@stronach_luke Watch this as a bit of an explanation as to why many in Scotland stopped taking the knee after the Kudela incident.
Duncan 🏴󠁧󠁢󠁳󠁣󠁴󠁿 ()
@kxsmo Pretty much Czech every player ive heard talk about the kudela incident has cast doubt on the evidence or said it was a distraction quite grim
Lukáš Polášek ()
@sportbible What a bunch of idiots here in this comment section. Souček is absolutely spot on. Kudela was given a ban without proper evidence. It was a dirty political decision.
Liam©️ ()
@Nickuk84 That's a hell of a jump. Kudela, who he's speaking about, was subject to an intense investigation and was found guilty of racial abuse. If you're saying that him receiving punishment as a result of that, I highly recommend reevaluating where you draw your line

Sešívaní ()
@RowZMedia By sensitive he's referring to how in Britain Kudela has become villain and basically vilified without clear evidence because it's a case that could have been racist
XVespucciPlaysYT ()
@NUFCcook Soucek said he was shocked that his friend Kudela was racist and doesn't expect that from him. He also goes on to say how England and the world as a whole can do a lot more to stop racism.
Josh Harris ()
@francesellen_ found this bug still says the same but he tries to explain it

West Ham News & Views ()
@HLTCO Should actually watch the interview and not go off English media translation. States he was shocked at what Kudela was accused of and said the world can do more to fight racism.
Hendogg ()
Lmfao is anyone shocked? I am yet to see a Czech player take a firm stand against Kudela & racism on the whole
Fuad Alakbarov ⁠⁠ ()
Scotland's first opponents, the Czech Republic, will be without Slavia Prague's racist Ondrej Kudela and you would expect SFA to learn mistakes from these stuff.

West Ham News & Views ()
@Baino04 How is being shocked at what Kudela said defending him exactly? 🤦🏻‍♂️ Don't look at the English media's translation, watch the actual interview.
Peter mccloy's big kick ()
@bellacaledonia Have you not been following Scottish football since March? didn't hear any outcry when this first started after the Kamara Kudela incident.
Leonard ()
it doesn't help when you've got uefa skirting round it like it's a minor issue either, if they really wanted to "kick it out" then kudela would've got a lifetime ban but if it don't affect the pocket then why deal with it right?
ً ()
Soucek isn't completely defenceless because he should outright refuse to respond to questions about Kudela, but I'm not even shocked the quotes have been cherrypicked to make him look a cunt
Marcus ()
Kudela racist? He loves black people too much so he's the last person I'd think of as racist. Come on don't joke with that one