#Notts Twitter Trend : Most Popular Tweets | United Kingdom
MATCH DAY | Possibly the biggest of our 106-year history 🆚️ Notts County 🏆 @TheVanaramaNL Promotion Final ⏰ 🏟 @wembleystadium #ProudToBeTown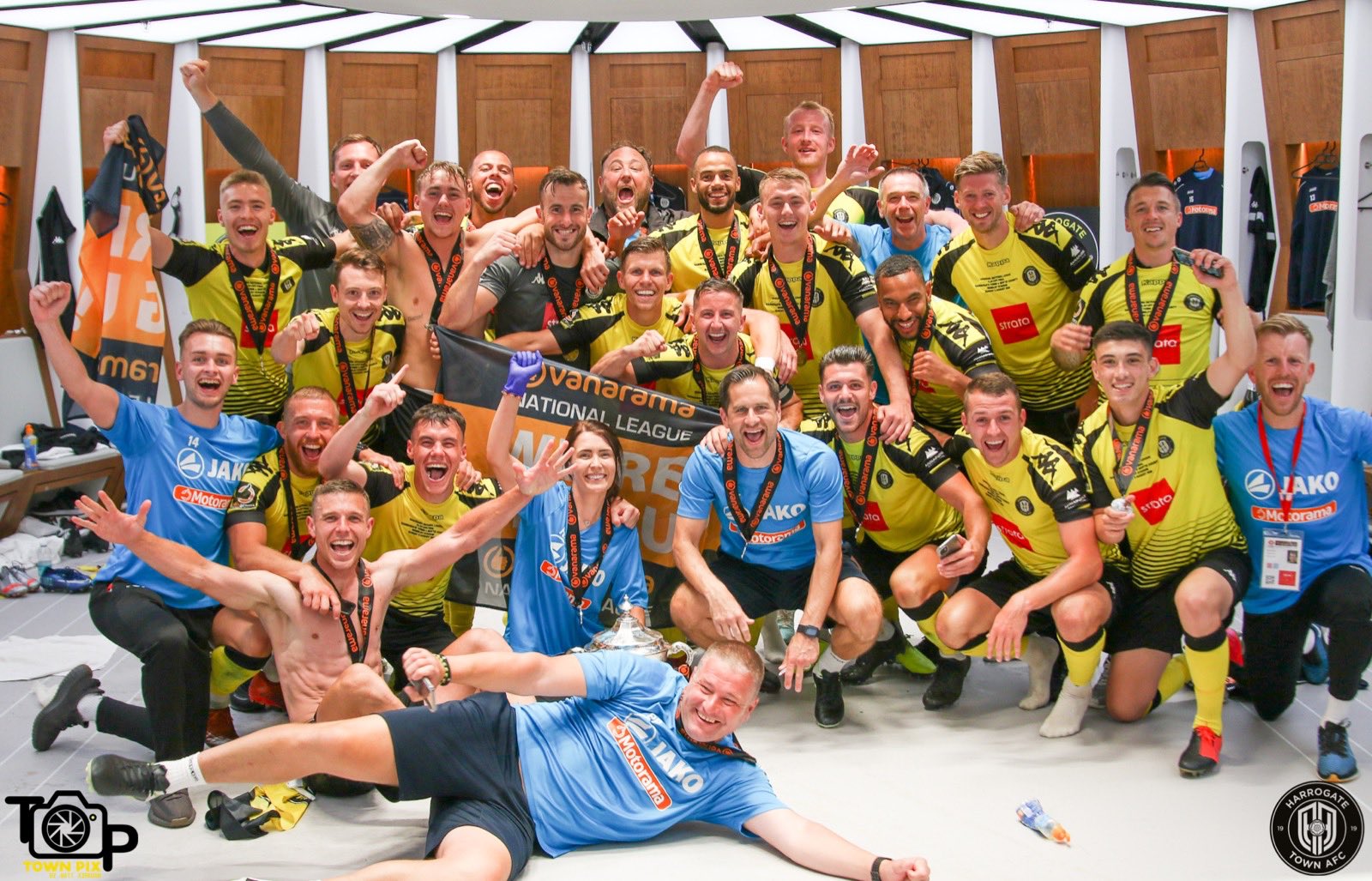 #Notts on Twitter
Iamjoshbattell ()
Congratulations 🥳 to @HarrogateTown for managing to beat notts county and become a league 2 team
DARREN ⚽ 🏆 ()
Congrats to Harrogate Town AFC beating Notts County 3-1 in the non league play off final at Wembley and gaining promotion to league Two #football
Lewis Vaughan-Jones ()
Been in the Notts Sunday League group for an hour and someone has already offered someone out in a car park. State of that.
Dan Westwell 🇬🇧 ()
One good thing to come out of today is that this song can be aired again next season: SOLIHULL AWAAAAAAYYYYYY! #Notts

Nottinghamshire Live Sport ()
Neal Ardley admits losing at Wembley is one of the worst feelings. #notts #NottsAtWembley
Mem 🤓 ()
Happy for Harrogate. Notts County were nothing special, just very functional against Barnet.
Tragic ()
Delighted for Harrogate, first time in the football league enjoy it you've definitely earned it. Gutted for Notts County though :-/
Em . #BLM ()
I can move back to notts in A MONTH Get me through this month and imma be so happy omg
Ben Mellor🏴󠁧󠁢󠁥󠁮󠁧󠁿 ()
There's nothing more stressful in life than supporting notts county, however I absolutely fucking love it🖤@Official_NCFC
Dave Bracegirdle ()
Wicket Ben Duckett feathers Conners down the legside and goes for 23. Notts 39-2 in their second inns, leading by 124. #bbccricket
Debbie ()
@HarrogateTown @Official_NCFC Congratulations Harrogate and commiserations to Notts County

The Guardian ()
Harrogate see off Notts County on ascension day for manager Weaver
Doug Shulman ()
Feel for Notts Co but wow, that's some fairytale for @HarrogateTown A Northern Premier League club not that long ago, they will now compete in the @EFL Another new ground to tick off next season.
Scott Thorpe ()
@salbre81 I really hope my boy whos only 1 gets gripped. Also your welcome to stop me for a chat about notts any time so dont be afraid if you see me around pubs and grounds x
Ethan Sloan ()
@forza_notts I can't see that anyone really gave 100% today. Cal played alright and scored an absolutely beautiful goal, but he didn't see much of the ball
Cory ()
A championship side will come after @Calroberts_ the way he's played this season. be lucky to keep him #Notts
Benjii6690 ()
@Jimi_Dyer Needs to give up getting Notts back in the league and get on the coaching staff
Andy Riggall ()
What a crap ending to the football ,Notts and Boston all missing out on !!!!
Abbie ()
Can not believe I'll be going to watch Alex and Kings Lynn play against Notts County next season when I was at Meadow Lane not that long ago watching united play em 😂
Davicillo ()
@LaMediaInglesa Una pena lo del Notts pero que bonito e impredecible que es este deporte
Jamie Fannan ()
@Liam_ytfc Harrogate & Barrow in league 2 whilst teams like Chesterfield, Hartlepool, Notts in the national mental
Andrew corthorn ()
2nd to every ball cost us. No midfield shape left them too much space to play. Turner was on the wrong side for 2 goals and has a hand in the 3rd. Be interested to know exactly why rawlinson didn't play. #notts And all this 'we over achieved' bollocks can do one as well.
Red_claudius64 ()
@n55ffc I always Notts loaning us their ground to complete our season when the main stand caught fire in 1968. Our thanks as I remember it was to quibble over the money to give them for their
TheUkiHatter ()
@GeorgeBell0561 Money strikes again. How the hell Harrogate, Forest Green and and Salford are in a higher league than Notts County and Chesterfield I will never know.
Paul Wright ()
@LuTonino My Godfather lived in Harrogate, but supported York. Been to a few games there, they were in the Northern Premier league back then. Belshaw made a superb save at the death. Alex Lacey played for Notts.
WORLD OF BALL ()
No idea why the Notts County players are looking so glum - they get the pleasure of our company next season.
Joe ()
Gutted for Notts County, but congratulations to Harrogate. What a deserving club. Also, the owner and manager are father and son which is wholesome as fuck.

Baz Cooper ()
Amid the disappointment of #Notts losing here at Wembley, what a story for Harrogate Town. Brilliant for them and in truth, worthy winners on the day. They were terrific from the start.

William Ivory ()
Right. Deep breath, shoulders back, heads high. We are Notts. We're back. Ardley will see us right. Believe.
Harrogate Town AFC ()
MATCH DAY | Possibly the biggest of our 106-year history 🆚️ Notts County 🏆 @TheVanaramaNL Promotion Final ⏰ 🏟 @wembleystadium #ProudToBeTown