#SPOTY Twitter Trend : Most Popular Tweets | United Kingdom
Such a huge honour to be nominated for BBC Sports Personality of the Year 2020. Thanks @gregjames & @thebodycoach for announcing. Right- back to the cricket nets! 🏏 Thank You! #SPOTY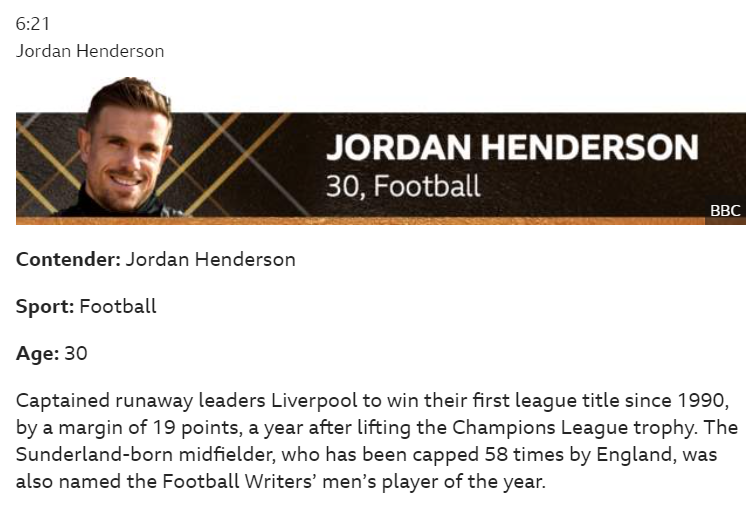 #SPOTY on Twitter
Daily Mirror ()
BBC Sports Personality of the Year shortlist confirmed with Lewis Hamilton favourite
Paul Reynolds ()
Sports Personality of the Year: Contenders revealed for 2020 BBC award #SPOTY
Alec ()
Seeing Jordan Henderson but not Rob Burrow nominated for spoty is actually quite sickening
Mr Lawrence 🇬🇧🇬🇩 ()
He stands a very good chance of winning it this year. When all is said and done. #SPOTY
David Rich ()
Hopefully scousers can show what a shitshow #SPOTY is and vote on mass for Jordan Henderson. If Liverpool can show they have a fanbase anywhere near Man Utd the 16/1 available is very fair, it will only take circa 125,000 votes to land the punt.
Nigel Browne ()
@davehendon It's about time snooker got a mention on SPOTY. Long overdue. I will certainly be voting for Ronnie.
✍ Nic Weatherill, ()
No @MarcusRashford .... seriously? Very nice of you to give him his own award but he absolutely deserves at least a shortlist for SPOTY @BBCSport
Greg Wood ()
Great to see Hollie Doyle on the shortlist for #SPOTY, and 25-1 too … get a tenner on, then vote early and often … #racing
Colin Printer ()
What is the definition of personality? Makes you wonder, as Ronnie O has just been nominated for the first time in 28 years of pure snooker personality. Good luck to all. #sportspersonality #SPOTY

Stephen schofield ()
FFS Jordan Henderson up for SPOTY, I know 2020 is a terrible year but this is taking the piss. 🤔#SPOTY
Jim Bell ()
If #SAFC were an award, we'd be #SPOTY .... >Outdated >Ran by cunts >Utterly pointless
Random Polls ()
Are you happy with the nominees for BBC Sports Personality of the Year? #SPOTY #bbcspoty
Stash....... ()
So please Hollie Doyle is on that list - really deserved #SPOTY
Bryn Evans ()
Hollie Doyle definitely deserves to be on the list, and I will be voting for her. But I would have also included Bethany England (WSL Player of the Season) and Emily Scarratt (6 Nations Player of the Tournament and Grand Slam winner). #SPOTY

Mr Keer ()
6 World Championships in a row. (Record) 99 Race Wins. (Record) 185 podiums. (Record) Highest ever points tally. You would think statistics like that would get you nominated for #SPOTY races a motorcycle.
Stephen henry ()
@GaryLineker @piersmorgan Johnathon Rea not even nominated for SPOTY! How one sided is the BBC ENGLISH sports personality of the year!! Give it to Lewis to keep the BLM clan happy for all the wrong reasons! Racism isn't just colour
JES ()
Desperately hope that Hamilton loses out to either Ronnie or Tyson. #SPOTY
Bridget Prentice ()
It seems incredible to suggest any sportsman or woman no matter how successful they have been is more worthy of this title #SPOTY this year than @MarcusRashford
Sam G. ()
@rich__cohen I remember predicting his future SPOTY win as we sat in The Pinewood Hotel bar c. Feb 2014. How you laughed!
The Social Sciences ()
Sports Personality Of The Year or SPOTY is trending; Seen as it is 2020 and we are meant to have learned so much from this How about we instead have Nurse/ Scientists/ Citizen/ Employer/ Doctor of the year? Sports personalities do get rather a lot of adulation already!
Anna Hickey ()
How is @MarcusRashford not in the #SPOTY shortlist?! Or @EmilyScarratt of the phenomenal #RedRoses. 🤷‍♀️
Lauren Noon ()
Disappointed @MarcusRashford isn't nominated for SPOTY 🤷🏼‍♀️
Jason ⚒ ()
@GBRacing @HollieDoyle1 At 25/1 will be one of her best wins. Good luck #voteHollie #SPOTY
Boxing News 🥊 ()
Tyson Fury SPOTY nomination delights Frank Warren as he talks up chances of win
The Boxing Ring ()
Frank Warren is hopeful Tyson Fury will clinch the BBC Sports Personality of the Year award later this month following an historic year for the boxer who beat Wladimir Klitschko
Stephen Watson ()
No #SPOTY nomination for 2017 runner up @jonathanrea who won a record breaking 6th World Superbike title in a row. 🤷‍♂️
David Rich ()
Scandal not to include @MarcusRashford in final six for #SPOTY let the public decides who should win, not some clueless faceless BBC beauracrats who know little or nothing about sport. Giving him a special award is the biggest acknowledgement that they know the decision is wrong.
Innocent Bystander ()
Would have got great odds of picking that 6 on January 1st this #SPOTY
BBC Sport ()
@ronnieo147 @thebodycoach Snooker World Champion Ronnie O'Sullivan has been nominated for BBC Sports Personality of the Year 2020. Voting will open during the live show on BBC One on Sunday, 20 December. More: #SPOTY
Stuart Broad ()
Such a huge honour to be nominated for BBC Sports Personality of the Year 2020. Thanks @gregjames & @thebodycoach for announcing. Right- back to the cricket nets! 🏏 Thank You! #SPOTY