#UnquietGraves Twitter Trend : Most Popular Tweets | United Kingdom
Go into a primary school in Co Armagh and kill the innocent kids and teachers. That's what the UDR and British intelligence intended to do. Couldn't imagine the peace we have today if that had ever happened #UnquietGraves #GlenanneGang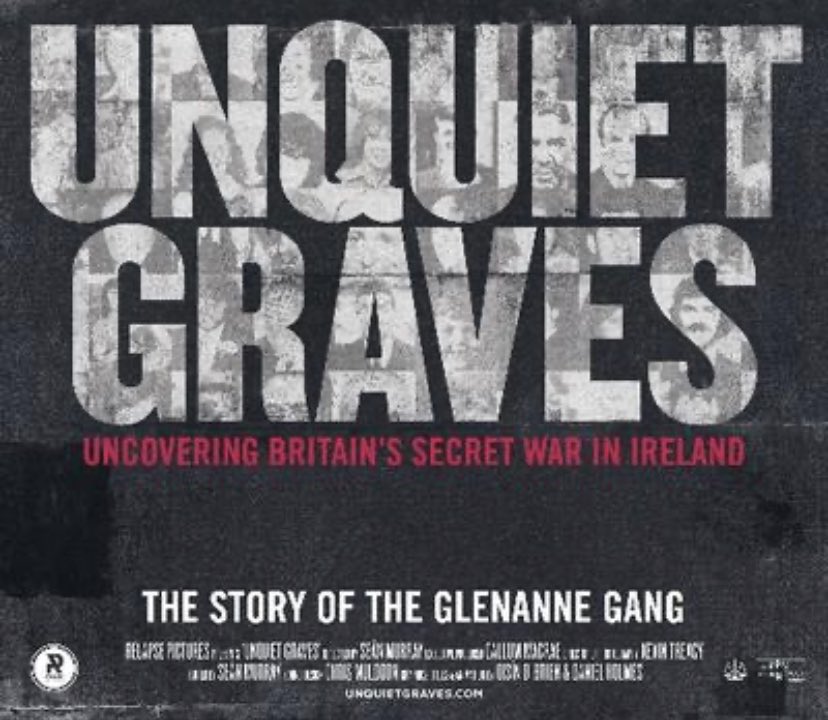 #UnquietGraves on Twitter
Peenie man ()
Has there been any questions asked of our Garda Commisioner Drew Harris yet after the broadcast of the compelling #UnquietGraves on #rte last night?
La Menace. ()
@coodana No collusion was not an illusion #UnquietGraves only scratchs the surface living a daily life during the conflict nationalists were aware everyday that the British state were involved in setting up murders with loyalist murder gangs.
Paddy fox ()
Could any of my followers please retweet this. #UnquietGraves is half the story of what happened in mid Ulster. #Collusion
Roman Shortall ()
Very unsettling to think that ultimately Drew Harris would be the person in charge of any further criminal investigations in the South in respect of the issues raised in #UnquietGraves .
Mandy McAuley ()
#UnquietGraves #collusion In 1973 Margaret Campbell identified UDR man Robin Jackson as her husband's killer. Security sources say he was already a state agent. Decades later, in 1992, Jackson targeted the Cairns family in Bleary for attack. Rory & Gerard Cairns were murdered.
Philip Harris ()
One of the most unsettling things about this documentary is that this information has been around for 40 years!!!! #UnquietGraves
John McDonagh ()
@AnneCadwallader is to journalism on these Islands as @JulianAssange_ is to worldwide journalism. #UnquietGraves
Fintan gately ()
@Independent_ie Typical MSM. #UnquietGraves documented the catastrophic events in the north through the troubles and instead of highlighting this and asking the hard-line questions,you run with this shit about pizzas. Ye are a disgrace
Babs ()
@AnneCadwallader how is to the benefit of families of the #UnquietGraves that Mr Harris is now the commissioner on the south?
Common Cents ()
@HMcEntee What is your position on the continued appointment of An Garda commissioner following the revelations in #UnquietGraves?
Martin Doyle ()
#UnquietGraves was a powerful reminder of how British security forces collaborated with loyalist paramilitaries to kill Catholics in the 70s. Here, British journalist Ian Cobain spells out in great detail how that continued in the 80s and 90s
Declan Eccles ()
Interested to see did @ReginaDo watch #UnquietGraves last night? Just because you know, sure didn't we 'bring it on ourselves' and all that

Mmmmmmm ()
@SkyNews Watch Unquiet graves. It will give you an insight into how Britain treats the Irish. England out of Ireland #Unquietgraves
Keith Kelly ()
Ya go through the full range of emotions just watching #UnquietGraves from anger quickly into rage, the British tried to ethnically cleanse the north in good conscience because they were ridding a pestilence whilst cowards in the dail turned their back on what was going on.
PJ Pickering ()
Dear If you've been shocked by #UnquietGraves then you haven't been watching or listening to your northern cousins at you? Maybe it's your state run media that blacked out the truth for decades out of guilt and cowardice? FG/FF hadn't the balls to step up.
EUCitizen ()
@PaddyHolohanMMA @PaddyHolohanMMA did you watch #UnquietGraves tonight? If so what did you think of it?
Eddie Barrett🐊 ()
This is #NealeRichmond's reaction to me ? #UnquietGraves
Margo ()
The 26 county government turning a blind eye to the Dublin Monaghan bombing is sickening to the core ..they knew then and now the british army made those bombs that type of bomb was only used that day and never repeated again,bomb maker was a british army officer. #UnquietGraves
Donegal Bhoy ()
@nealerichmond @markrowantree Significant viewing #UnquietGraves Irish Govt have a duty to speak up.
Aidan Regan ()
Hugely significant contribution to society, truth and the public sphere. Thank you @sean_murray1 #UnquietGraves
Ronan Kyle ()
#UnquietGraves Brilliant documentary on RTÉ 1 about the Glennane Gang and collusion with the UDR and RUC
Steven McDonnell ()
Go into a primary school in Co Armagh and kill the innocent kids and teachers. That's what the UDR and British intelligence intended to do. Couldn't imagine the peace we have today if that had ever happened #UnquietGraves #GlenanneGang
Frances Black ()
Watching #UnquietGraves on @ absolutely harrowing and very upsetting @sean_murray1
Angie Bee ()
@marlowsean Hope you'll be watching #UnquietGraves tonight. A birthday treat for you, kid!
Frank Mitchell ()
Your opinion on #UnquietGraves welcome tomorrow morning @U105radio. @RTEOne The story of The Glenanne Gang who murdered at will and among those they attacked were the young men in the Miami Showband.
Patricia Devlin ()
Pat Campbell was killed in front of wife Margaret in 1973. "When the guns went off my legs collapsed. I crawled up against a radiator and Pat came down on top of me" She l8r picked out UVF killer/agent Robin Jackson as gunman in a police ID parade #UnquietGraves RTE1 at
Michelle Gildernew ()
These people are our friends, our family, our neighbours and Club members. Heartbreaking to see all those names on one page. Thank you @sean_murray1 et al for making this film. #UnquietGraves on @rte tonight at #StateViolence