NYPD Twitter Trend : Most Popular Tweets | United States
This video of the NYPD charging and arresting workers on strike for just a $1/hr raise is 10,000 times more politically relevant than any image or footage coming out of DC this week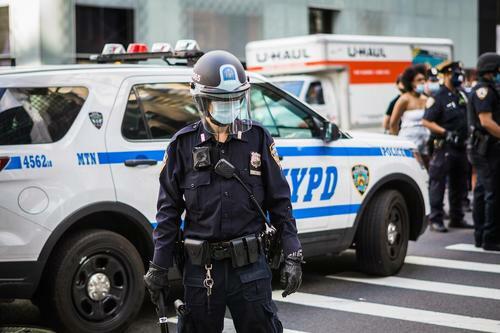 NYPD on Twitter
Jonathan Cohen ()
Everyone, even the NYPD should be accountable for their actions.

Anarcho-socialism1945 ()
@MikePerryavatar Using excess DOD funding for homeless shelters rather than giving NYPD tactical nukes.
Arturo Humberto Enamorado III ()
Which is it? Do nothing like at the #capitolriot or pretend you are some #NYPD needs to do better. This is the opposite of protecting and serving.
Dorel ()
@Paracelsus Also, NYC's budget is something like 90 billion and NYPD's is like 10 billion so like 11%. It doesn't weigh that much on our budget like it does for other municipalities since we have so much tax revenue

Drawing Guy ()
NYPD celebrating MLK Jr Day by being the same as the brutalizing cops that he fought against over half a century ago.
Scott Heins ()
This video of the NYPD charging and arresting workers on strike for just a $1/hr raise is 10,000 times more politically relevant than any image or footage coming out of DC this week
Scott Hechinger ()
Yesterday the NYPD's police union tweeted out praise for MLK. Later last night, *hundreds of NYPD* attacked protestors for Black lives.
Ray H. "Mask it or Casket, otherwise STFU!!! ()
Even by the Rant's vitriolic standards, the messages, written by a poster who called himself "Clouseau," were particularly vicious and racist. One referred to former President Barack Obama as a "Muslim".
LatinoJustice PRLDEF ()
We thank @NewYorkStateAG for bringing this lawsuit to hold NYPD Officials accountable and seek a federal monitor for an out-of-control department." - Juan Cartagena, President and General Counsel at LatinoJustice PRLDEF
LatinoJustice PRLDEF ()
Nearly a decade after @latinojustice successfully sued the NYPD for racial profiling in Ligon v. City of New York, the dept. racial bias is still on full display. This summer, the dept. targeted peaceful demonstrators—particularly people of color—for arrest and violence.
🇩🇴 ()
The same NYPD that arrested 5 teenage boys and verbally/physically coerced them into admitting to crimes they didn't commit ? The same NYPD? No it doesn't make sense !
Balzac10019 ()
Attorney General Sues Over Protests and Demands Monitor
Out to Lunch ()
Deblasio why you so cryptic right now in you're prelim budget proposal live right now. You're cutting "labor costs" and "agency costs" "across the board"... explained in depth about the DOE, but tell us about the NYPD. You know the people want to @NYCMayor #DefundNYPD

NYPD bot ()
New York attorney general files civil rights lawsuit against NYPD over 'brutal force' during 2020 protests - The Independent
All Things BLACK #allthingsblack ()
New York attorney general sues NYPD to install monitor, alleges years of civil rights abuses. #defundthepolice
Phenomenal B ()
for those keeping score today - ex-Gov. Rick Snyder charged for neglect in Flint water crisis - NYAG James sues DiBlasio & NYPD for pattern of abuse - Charges dismissed against 28 Detroit protesters:
Good Boy ()
Excessive, Brutal And Unlawful: NY Attorney General Sues NYPD, De Blasio Over Handling Of George Floyd Protests | ZeroHedge
NYPD Manhattan South ()
Please read this article about Captain Ralph Clement Commanding Officer of the @NYPD9Pct he was featured in the West Indian Newspaper's Profile of the Month. Captain Clement is a true leader and exemplary role model. @NYPDPBMS is lucky to have him.

Sharon lynch ()
Exactly. There is an overall tenor within the NYPD that they can do whatever they choose regardless of what is legally allowed.

Timewalk Project ()
WATCH: New York AG announces lawsuit against NYPD for civil rights abuses via @YouTube
MorrisPark ()
How about the NYPD countersue for being derilict of duty by refusing to address corruption in Human Resources Administration, organized crime and severe malpractice. Does the racist ape even know what a RICO is or is she a slave to the mafia like Bronx DA Darcel Pinhead Clark?
Ben Adler ()
Attorney General sues NYPD over response to George Floyd protests
Matthew Abenante, IRC ()
Excessive, Brutal And Unlawful: NY Attorney General Sues NYPD, De Blasio Over Handling Of George Floyd Protests
Dave Basnet ()
If you simply refuse to commit to defunding then NYPD, then I simply refuse to consider you a serious mayoral what's not clicking😐
BlackWomenAreKryptoniteToGOP ()
NYPD endorsed a presidential candidate that has now been impeached twice for committing corrupt acts That tells you all you need to know about the NYPD

Kyle Griffin ()
New York Attorney General Letitia James is suing the City of New York and the NYPD, and calling for a federal monitor to oversee the department, following an investigation that found widespread civil rights abuses from the NYPD during racial justice protests.
Zack Fink ()
🚨NEW: @TishJames is filing a lawsuit today against the NYPD seeking to install a federal monitor to oversee the department. The suit stems from the #BlackLivesMatter protests over the Summer. The AG's office found widespread civil rights abuses by police against protesters.