Tahitian Treat Twitter Trend : The Most Popular Tweets | United States
You people are not going to have me drive to a convenience store in an overcoat and nightgown to get a Tahitian Treat. Get thee behind me, Satan! #TahitianTreat #LookingForMyKeys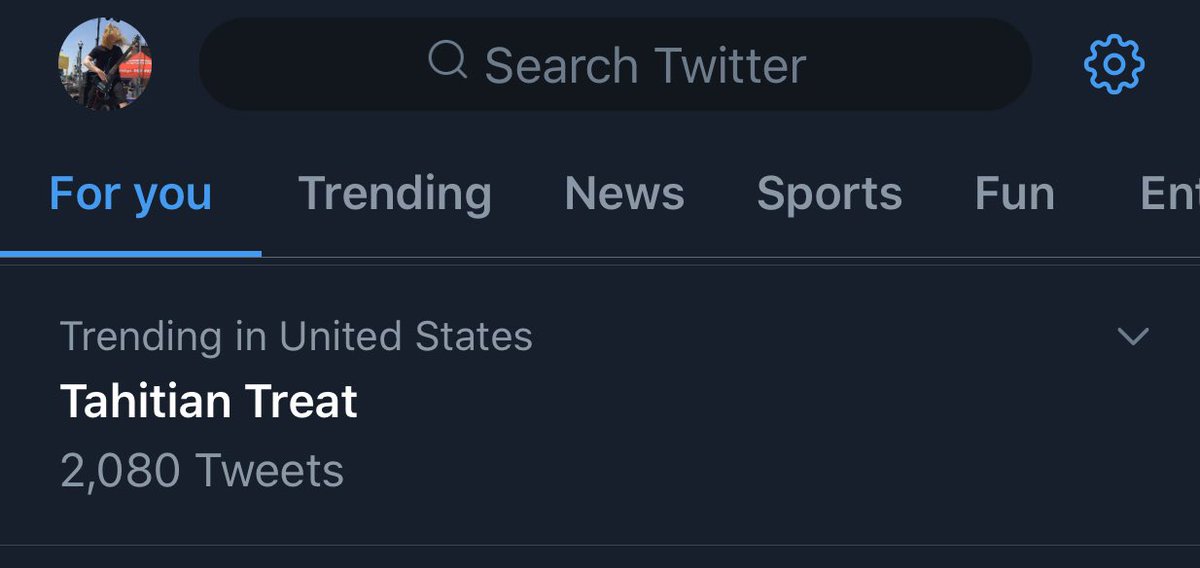 Tahitian Treat on Twitter
Lei 💍 ()
tahitian treat when it got a lil slush to it damnea be the best thang eva 😩
J ()
@AutumnTheAries Tahitian Treat was up there but Faygo grape and cream soda lead the way for me!!
Girth Reynolds ⚡️ ()
Tahitian treat is God's nectar. I'm blocking anyone who disagrees.
Robert A. Taylor III ❄ ()
Unequivocally Tahitian Treat Wins! This isn't even fair to faygo drink Faygo? They shoulda put Wildwoods in here lol. #RealOnesKnow
THEE ICON 🦋 ()
If you don't think it's Tahitian treat let me know so we can fight
Araya Stark in Black 🤺🛡⚔️🗡 ()
If you have Tahitian Treat at your 'm staying over.
The Only FLOTUS ()
@michaelharriot I agree. Tahitian treat goes into all the church punches, along with pineapple juice.
TheJerkster ()
My white uncultured ass knows the answer is Tahitian treat. That shit is fucking delicious.
Jay Kavius Macathon ()
Tahitian Treat yall say anything other than that you tweaking
YuuriVoice, Himbaux Enthusiast ()
Tahitian Treat trending at 2am is a blessing. The second half of February gonna be lit, I know it. 😤
41-12 KCP Fan Account ()
Y'all talk about McDonald's sprite but Tahitian treat could electrocute Thor
Cutty From The Cut ()
Ppl used to call Tahitian Treat liquid diabetes lol it's worth it that bitch in the picture look good and cold too 😍😍
Regular Timeline Hank🎭 ()
Y'all got me weak 😭😭 this might be the best late night trend in a min 😅 Tahitian Treat
Isis Hatsepshut ()
You people are not going to have me drive to a convenience store in an overcoat and nightgown to get a Tahitian Treat. Get thee behind me, Satan! #TahitianTreat #LookingForMyKeys
RIP Kobe/GiGi 💔🙏🏽 ()
Tahitian Treat! Anything Fruit Punch is usually the best. But man something about that stuff. It's soooooooooo goooooood😩😋
Jimmy juugs ()
that redpop is straight syrup nd tahitian treat dont een buss no more fr
Quest🤫 ()
no cap if that Tahitian Treat .99 cent I'm definitely grabbing that first 😂
Jujubean ()
Tahitian treat hands down especially when it's a mini slush too 🤤🤤
BigSean74 ()
Everybody know Tahitian Treat better, it just go flat too quick
Simon Phoenix ()
Let's address the real issue here and have you tell me where tf you can get a two liter of Tahitian treat for 99 cents?
Trixie tang ⚜️ ()
Y'all know ain't nothing slapping harder than that Tahitian treat
Nya 🦚 ()
I KNOW good and MUTHAFUKKIN well y'all not comparing Tahitian Treat to some damn Faygo 😒
Mrcarter1of1 ()
Tahitian Treat is an old school Jersey staple but I've never heard of
Bear© EST 10/8 ()
Tahitian treat be good as hell when you ain't have it in a while
😎 Peace, be still ()
@DRoyale I've been drinking tahaitian treat since I was a kid but I've had a faygo before they cool but not better than Tahitian treat
Eric Wallace ()
I ain't black but even I know that Tahitian Treat is the 🐐 of Fruit Punch Sodas. As a matter of fact The GOAT of all Red Sodas period!!!
Ur Pound Cakes ()
Smh why is this even a question?? Don't ever disrespect Tahitian Treat
La vuida negra ()
Tahitian treat is liquid crack & I'll get diabetes pop taste like diluted robitussin
MYB🤷🏾‍♂️ ()
Tahitian Treat used to set the party off right in elementary school! Faygo could never!!
40s & Shorties. ()
Tahitian treat, especially when it's slightly frozen!! 🔥