#AEWDoN Twitter Trend : The Most Popular Tweets | Worldwide
What Watch the Double or Nothing reply NOW on all major cable & satellite providers / @BRLive / @FITETV (Intl Fans Only) #AEWDoN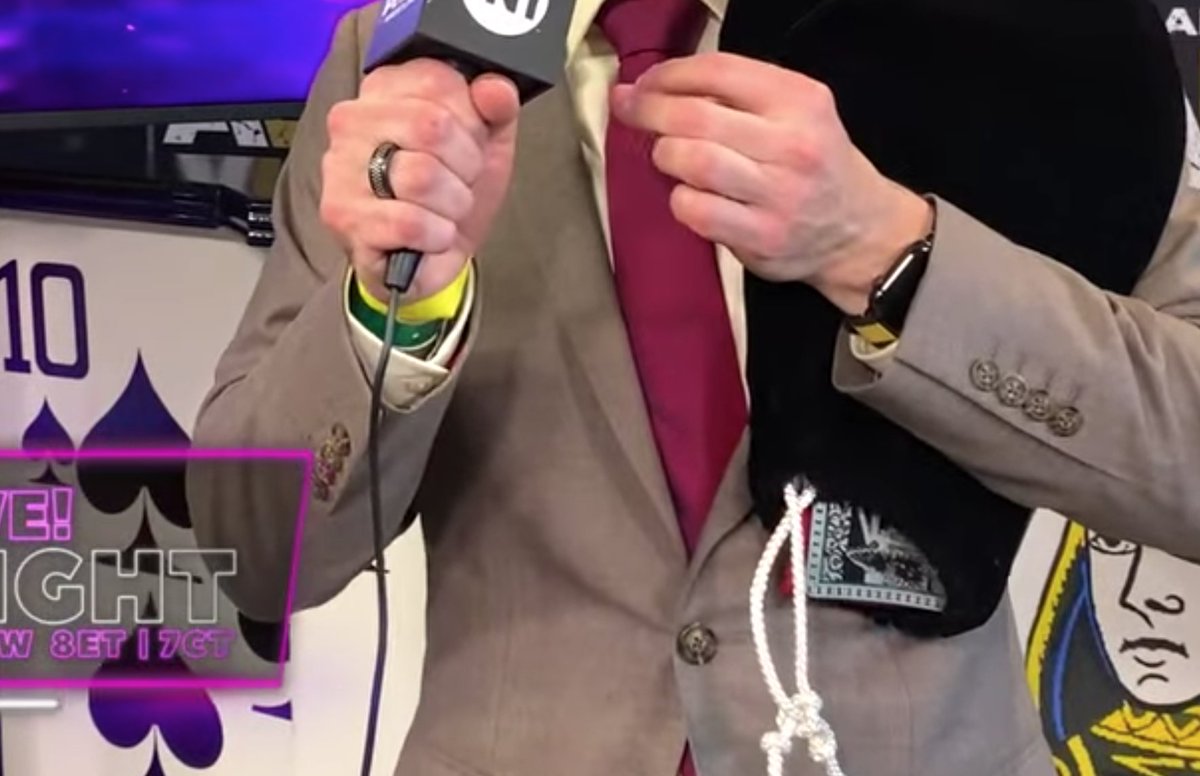 #AEWDoN on Twitter
#BROKEN Matt Hardy ()
Whenever The First Version shows up on @AEWrestling, my MFers are always treated with an informative A MATTer of FACT tidbit. #StadiumStampede #AEWDoN TFV
It Was Three ()
What did you guys think of AEW Double or Nothing? Check out this review from @rebnoise #AEWDoN
All Elite Wrestling Info ()
The Stadium Stampede match was just as great watching the second time around. So much buffoonery and silliness but entertaining as hell! #AEWDON
All Elite Wrestling Info ()
Just rewatched MJF/Jungle Boy, what an excellent match! Still my favorite match on #AEWDON.
Wrestling Turkey ()
Matt Jackson'ın eşi, Matt'in Double or Nothing'de kırık bir kaburga ile çalıştığını söylemiş. #AEWDoN #MattJackson
Kevin Sullivan ()
What an awesome shot from Saturday night! @AEWrestling #AEWDON
Proud & Powerful🇵🇷 ()
Completely blown away by the feedback and reaction the #StadiumStampede has gotten. A HUGE shout out to every helping hand that went into making this crazy idea a reality. I'm glad that we're able to give so many people an escape from the shitty times we're living #AEWDoN
Mei Suruga 駿河メイ ()
Now Live!!! Emi Sakura×Hikaru Shida Choco talk!!! Congratulations AEW Woman's Champion!! #AEWDoN #gtmv
Mister Rems 🇫🇷 ()
Je trouve ça tellement bien que Sammy Guevara travaillent aux côtés de talents comme Kenny Omega, Chris Jericho, les Bucks ça lui permets tellement d'acquérir de l'expérience et de découvrir différents styles de catch auprès de ces beaux noms. #AEWDoN
Michael Hamflett ()
#AEWDoN was so good that it's been 48 hours and I haven't seen any notable mention/complaints of The Revival or Sting not being on the show. People weren't just satisfied with what they paid for. They were also pleased with the bulk of the current roster in its existing form.
Solowrestling (#QuedateEnCasa🏡) ()
🚨PODCAST ALERT🚨 📻SoloWrestling Radioshow ya está disponible en podcast Repasamos la actualidad de #WWE, #AEWDoN, y esta semana trágica. Además vuelven el Vintage y el HANGAR🥳 Ivoox: Spotify:
Arjona ()
@SCHWITZCAST 💅 lasst mich doch erst mal das event schauen!😄im anschluss dann natürlich direkt #schwitzkasten! #aewdon
ほるでん ()
ほるでんオブザーバーの #AEWDoN 2020試合評価 1カジノラダーマッチ☆ 2MJFvsジャングルボーイ☆ 3コーディvSアーチャー☆ 4ペネロペvsスタットランダー☆ 5ダスティンvsスピアーズ☆ 6ナイラ・ローズvs志田光☆ 7モクスリーvsブロディ・リー☆4 8スタジアムスタンピード☆
Ramus Stereo ()
Broken Matt Hardy just got dunked under water and when he got pulled back out he reverted to version 1 and the old graphics popped up on the screen. This fucking rules #AEWDoN #StadiumStampede
Christian Maracle ()
AEW Double Or Nothing II Final Rating: 52% Casino Ladder: ⭐️⭐️⭐️ MJF/Jungle Boy: ⭐️⭐️⭐️ TNT Title: ⭐️⭐️ Kris/Penelope: 1/2 Dustin/Shawn: 0 AEW Women's Title: ⭐️3/4 AEW Title: ⭐️⭐️1/2 Stadium Stampede: ⭐️⭐️⭐️⭐️ #AEWDoN
Christian Maracle ()
Aside from the shitty officiating, this AEW Title Match was fun to watch! One more match left! #AEWDoN
Christian Maracle ()
Shawn Spears (wtf was that for?) and Dustin Rhodes was absolute shit! 👎👎 #AEWDoN
Kenny Herzog ()
Caught up with #AEWDoN. All my disclaimers about how the wrestlers should be at home—and compensated—right now aside, that stadium stampede was like a direct-to-video seventh sequel to The Warriors. And that's not a criticism.
OG-Man 🇦🇼 ()
So #AEWDoN was a blast for the most part. Two of the three title matches were pretty good. MJF vs Jungle Boy was a surprise hit. The Stadium Stampede was a stampede alright. A stampede of awesomeness!
Jacky Rodriguez ()
Go check out the newest episode of @ATElitePod for a full recap of the amazing show that was #AEWDoN!
Catch Club ()
Voici la Review #AEW Double Or Nothing! -Brian Cage fait ses débuts! -Cody Rhodes premier champion TNT. -Brodie Lee invincible? -Un Main Event énorme entre The Inner Circle et The Elite dans un Stadium Stampede Match ultra divertissant! #AEWDoN
Rachael Hope ()
I feel like I've just watched the result of a 5 year old with a billion dollar budget eating a crap load of sugar and then writing a wrestling ppv. Near enough 4 hours of my life I'm not getting back. #AEWDoN
Gary Cassidy ()
The Stadium Stampede match at #AEWDoN last night was absolutely incredible. One of the most unique matches in professional wrestling history, and most definitely one of the most entertaining for me! Photos: All Elite Wrestling / Lee South
Top Rope Wrestling Talk ()
Check out ⁦@S_PhillySycho⁩ and ⁦@TheEvilEvan⁩ as they talk the fall out from #AEWDoN and give the results of our group champions
😷Chris Sinister😷 #ImwithAEW🧨 ()
@AEWonTNT There really was too many to pick from. Let's keep this entire ppv as a moment in time of being one of the most genuine and well crafted ppv's that took our minds away from the world for a few hours. That's my top moment! #AEWDoN #ImWithAEW
D.C. ()
Petition for Mox and Cody to take a photo of them giving the 🖕each year after #AEWDoN
All Elite Wrestling ()
What Watch the Double or Nothing reply NOW on all major cable & satellite providers / @BRLive / @FITETV (Intl Fans Only) #AEWDoN
All Elite Wrestling ()
Paradigm Shift through the entrance ramp! Order Double or Nothing NOW on all major cable & satellite providers / @BRLive / @FITETV (Intl Fans Only) #AEWDoN

Tony Khan ()
Big Bicep Tony did in fact call The Bad Boy Joey Janela last night and ask him for a favor. #AEW Double or Nothing #AEWDON
WrestleTalk ()
Pre-show gets started at 7:30. Make sure to join us for all the live coverage tonight! #AEWDON