#AMJoy Twitter Trend : Most Popular Tweets | Worldwide
Trump does not care if he gets caught. He cares if he is punished. -- my interview on #AMJoy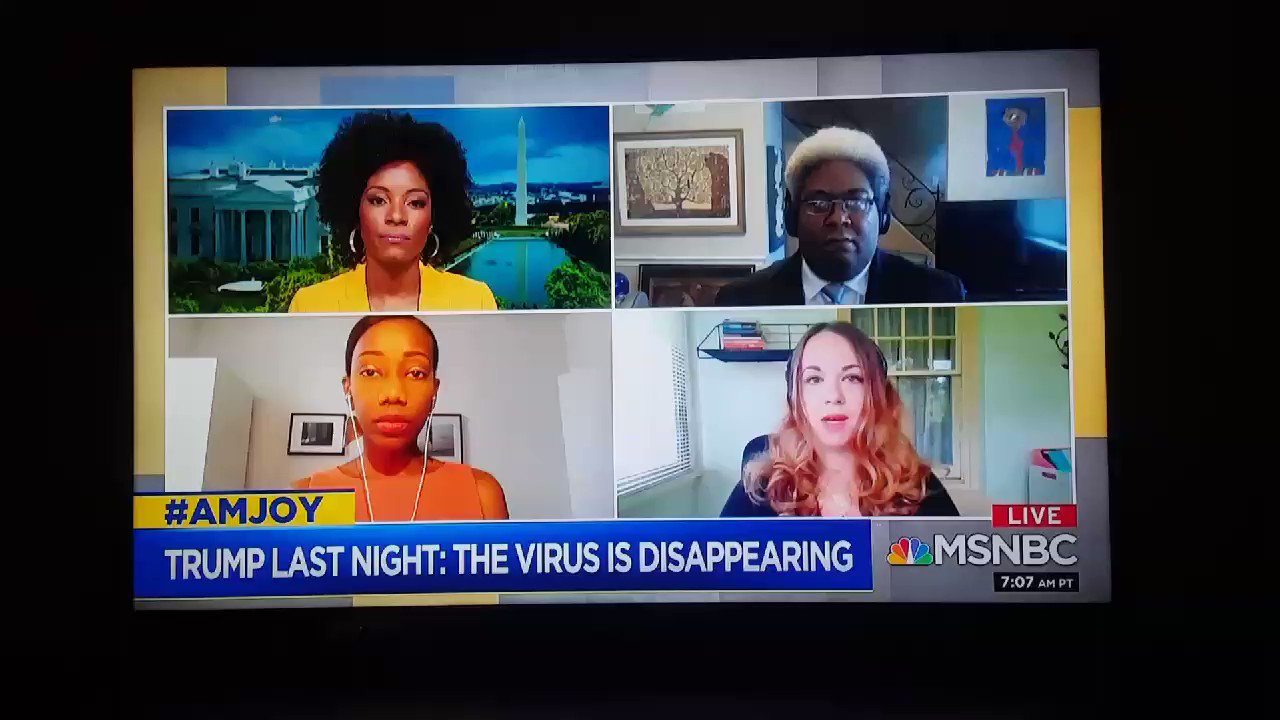 #AMJoy on Twitter
Daniel @ The Cove ()
@TiffanyDCross Ok, ok! You've got the part! The audition is a resounding success! MSNBC must give the AMJoy slot to @TiffanyDCross and rename the show to #CrossTalk!
Leane67 ()
@ElieNYC just made a valid point on #amjoy with @tiffanycross on how young black men are left out as a voting block. The Democrats continue to ignore this voting block & do so by having Mayor stop & frisk speaking at the DNC when they should have people like LeBron James speaking
RhysTay, PhD 🏳️‍🌈 #BidenHarris2020 #ForThePeople ()
Stop making excuses for Black men. They need to carry their asses to the polls and vote and quit that apathy! #AMJoy
JeepVotesGoodTrouble ()
White swing voters are a myth about an enigma that needs to be put to bed. #amjoy #CrossTalk
2020 GOALS: EVICT TRUMP & WIN SENATE -STAY FOCUSED ()
If you need extra motivation other than the fact that together we LITERALLY we can evict PROVEN racist, corrupt, criminal & incompetent Trump in November by VOTING, I really dunno what else to tell you. #AMJoy
Mary Lee ()
@TiffanyDCross @amjoyshow I am convinced, YOU ARE THE NEW, you are doing ❤❤❤
Karma is a cop ()
Speaking of Black men, where are all the think pieces, Woketivists and Charlamagne interviews with Kanye West on pressing him on his absent Black agenda, his hugging (literal) white supremacists, and white culture vulture wife? #AMJoy
ShantyMinister ()
Black male mayors, biz leaders, congressmen etc existed in the 70s (w/ few BW). But they did get eased out during the Reagan white supremacist backlash years. Not nearly enough, but so many of y'all too young to even remember that period. #AMJoy #CrossTalk
AM Joy on MSNBC ()
Rep. @AyannaPressley: Post Master General DeJoy must resign. He is [allegedly] carrying the water for this corrupt So he has to be held At a bare minimum he must be subpoenaed to come before the Oversight Committee & be taken to #AMJoy
@tiffanydcross ()
Good morning! Rise and shine! Have your coffee. Or sip your tea. We may spill some on #AMJoy this morning. Tune in for some #CrossTalk!

RIP Trayvon Martin ()
Social Security Pelosi Congress Chuck Todd Navarro Kudlow Dems #AMJoy #CNNSOTU Mnuchin North Carolina
Kenny BooYah! ()
4/Hillary: "Oh my gosh, there's never been an ambitious man apparently. At least I don't hear that word applied to a man. So, we've got to defend the right of women to seek&hold power. And I think we're going2get a lot of practice on that as soon as Joe names his choice." #AMJoy
Terri ()
@RB_0007 @MSNBC Tough call. Tiffany has a bit more of the same personality as Joy Reid. Still, all of the shows were really good, and FAR better than the one that follows the #AMJoy show. I turn off the TV after AMJoy.
The Mean Progressive ™ ()
PLEASE CHECK OUT! #blackwomenphotographers mentioned on #AMJoy this morning by @Dr_CMGreer ❤️ ⏩ @BlkWomenPhoto ⏪
Kirstin Elaine Martin ()
@AdamParkhomenko Why is he even allowed to be on the air on a Sunday? Fortunately we have #AMJoy to clean up some of his stinky, white supremacist and misogynistic mess which left us angry, dazed and confused.
GG Pounce ()
#AMJoy Always good seeing @HillaryClinton anywhere, any day of the week! Always good to hear her opinions on stuff. Wondering whether @JoeBiden will tap into her wisdom & know how from her own experiences?
AM Joy on MSNBC ()
[email protected] on Russian interference: The information that I heard in this classified setting where we are sworn to secrecy is absolutely chilling. Startling. And shocking. #AMJoy
Nioshii ()
Great job, @ZerlinaMaxwell on #AMJoy this morning! Looking forward to you interviewing @HillaryClinton tomorrow especially after her epic tweet this morning ✊🏼
LoniasG ()
Weird headline since most of us are affixing stamps valued at 55 cents and not going to the counter for any special rate. #AMJoy
GG Pounce ()
#AMJoy Always a blessing having @RevDrBarber giving us portions of his wisdom when he comes for a visit!

𝙶𝚘𝚗𝚣𝚘 𝚁𝚎𝚍𝚞𝚡 ()
"Postmaster General Louis DeJoy unveiled a sweeping overhaul of the nation's mail service, displacing the two top executives overseeing day-to-day operations." "Twenty-three postal executives were reassigned or displaced" #AMJoy
LaSonya ()
We never had a problem with mail in ballots until this fool became president. #AMJoy #reiders
JeepVotesGoodTrouble ()
I've been voting by mail for decades. I've never had a problem. This year I expect problems to occur because this admin wants to silence us, so I'll vote extra early. #amjoy

Sarah Kendzior ()
Trump does not care if he gets caught. He cares if he is punished. -- my interview on #AMJoy