Arise TV Twitter Trend : Most Popular Tweets | Worldwide
Parents were live on Arise TV today crying and the problem is Twitter in Nigeria??? Jesus take the wheel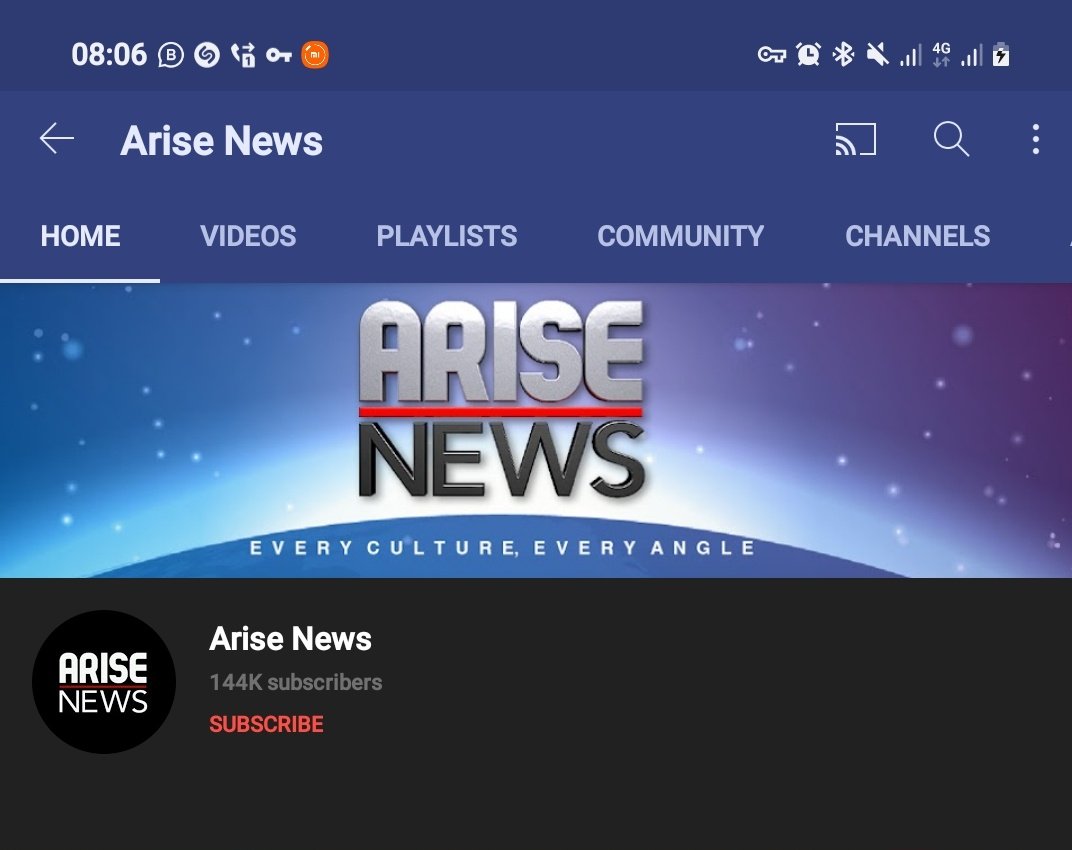 Arise TV on Twitter
Shehu Gazali sadiq ()
The poverty in my tenure is unimaginable- Buhari on Arise TV. So baba is very aware of his failures even though he keeps blaming previous administrations. Shame on those defending this man.
BizWatch Nigeria ()
Which is your favourite Nigerian-owned restaurant in terms of taste, quality and customer service? #KeepitOn #EndSARS | Ikeja | Arise TV
Kizzy ()
People wey dey interview Buhari dey try I think I prefer hearing he said than watching him The cluelessness sometimes baffles cos even the guy on blue jacket from Arise Tv was 🤣
247 Nigeria News Update ()
IPOB Is Like A Dot In A Circle, Going Nowhere, President Buhari Says On Arise TV Click on the link to see full details 👇🏽
Punch Newspapers ()
Buhari's Interview: Five Quotable Quotes ==== The President, Major General Muhammadu Buhari (retd.) on Thursday revealed his stance on some issues affecting the country. Below are some important quotes from the interview which aired on Arise TV:
Yk⭐️ ()
@_iamtomi This isn't true ! Isn't it the same Channels TV that interviewed the owner of that yeye App called Cowwie or what is it even called sef? Arise TV is the best .
IMO1stSon💰🤩 ()
@SaharaReporters I thought that my presy will laugh as usual hahaha. What is TV news
Reno Omokri ()
Arise TV Interview: The Killer Fulani With AK47 Are Not Nigerian Fulanis, They Are Foreigners-Buhari
Don patrick ()
For this Arise TV interview with buhari na just this lady on REd I just they I no know watin unner president dey talk weda ehn put sweet for mouth dey talk
Battery King 🙌🏽 ()
@temmyponle TRADE YOUR DEAD,CONDEMNED SOLAR INVERTER BATTERY FOR COOL CASH FOR ENQUIRY CALL☎️08107105177 Arise Tv WhatsApp Buhari Lagos Yaba #KeepitOn .
Random Tweets ()
@dahcutecreamie He seldom goes on any other TV than NTA so when the opportunity presented itself, Arise TV should have grabbed it with both hands.
Chinonso Abidemi 🗨 ()
Buhari just said on Arise TV that they will encircle the Igbo land with no access to anything and deal with them. Take note of this. They asked him about IPOB but he referred to a region instead. IPOB controls no territories at the moment.
Duke Of Ghana🇬🇭 ()
The called Arise TV to do the media bullshit to make it look non partisan. Rubbish. Doctored and edited media chat is no media chat. Let the president take live questioning from Nigerians period !
NEFERTITI ()
FYI; Arise TV Buhari interview, was recorded yesterday. Buhari said I will be going to Lagos tomorrow to commission the lagos-ibadan rail terminal." Yesterday is today. Any recorded interview is no "live interview." So, as far it goes, that was no media chat.
E ()
Buhari really said on Arise TV this morning that the youths "should behave" if they want jobs. Bro! The next 24 months is going to be one hell of a tough ride Nigerian youths. 🥺💔
Wale Adetona ()
I would have expected at least someone on that Arise TV interview panel to insist on Buhari answering that question about the #TwitterBan. Not all of them laughing it off like it's not affecting them too. But like it is our nature, we mueeeeve!
Wale Adetona ()
I laugh you if you think Buhari is not aware of the sad and ridiculous occurrences in this country. With his wicked laugh, this man that I'm watching speak on Arise TV now knows exactly what he's doing.
E ()
Buhari first of all dodged the twitter question. And when he was reminded to answer it by the Arise TV presenter. Bubu replied: "That, I will keep to myself." What if he's not even been briefed that it's been banned? And he doesn't want to say what he's not 100% sure of.
Udoh Promise ()
@Officialdeemmy More than fishy. They also know that Arise TV has been tweeting despite the Twitter ban but still decided to be interviewed by them instead of sanctioning them.
Liberty ()
@Emekannaoma @radiobiafralive So Buhary accepted the emergence of a new Nig made mobile phone but silenced and rejected the Nig made Vehicles by Innoson? Hidden agendas must all be unveyed; Anyway who is following that India Twitter called #kooapp? It has turned to Arewa empire ooo #ARISETV arise tv
COLLIN DAVIDS ()
is the question I wanted an answer firebrand questions would have been coming left right n centre in cool English Arise Tv
Wale Adetona ()
Buhari's exclusive interview on Arise TV is going live at 8:43AM this morning . Tune in.
Wale Adetona ()
What time is the Arise TV exclusive interview with Buhari today? All I'm seeing on their YouTube Channel is a 45 seconds snippet.
✗Catalyst✗ ()
Arise TV interviewed Buhari and everything about their production has become a shambles
RHONNIE ♚🐎 ()
Where can I watch the Arise TV interview with Buhari live please?
Femi Glover ()
Arise tv exclusive interview with the president is total rubbish 😂😂😂😂 what is this???
🇺🇸KossyDerrickEnt ()
(Video) Nigerian singer, Bella Shmurda buys new Mercedes Benz Arise Tv | Lagos | Malami | Buhari | Eko Bridge
Engr Obinnaya👷🏿👕👖👟 ()
Chai, Arise TV fall hand, is this the much anticipated interview 🤦🏻. Make i go off my Mtchewww
Dele Momodu Ovation ()
Directing media companies to UNINSTALL tools of their trade is the height of high-endedness!!! So ARISE NEWS channel, CHANNELS Tv UK and others should shut down Twitter because they are Nigeria POWER is too transient for all this GRA
TACHA🔱🇳🇬🇬🇭 ()
Parents were live on Arise TV today crying and the problem is Twitter in Nigeria??? Jesus take the wheel