Borderlands Twitter Trend : Most Popular Tweets | Worldwide
Tiny Tina's Wonderlands arrives early 2022! Who wants to craft a character? Maybe get a group together?! 🐰💣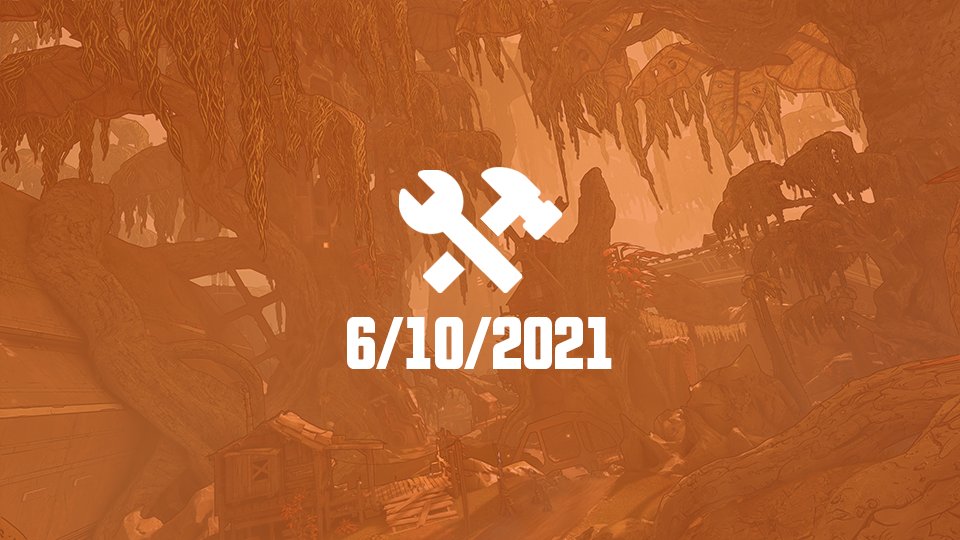 Borderlands on Twitter
TheBlindAndDeaf ()
@Win98Tech Gearbox thinks Tiny Tina humor is what made Borderlands 2 a good game and been trying to chase that high
⭐chloe⭐ ()
@SentaiWRLD I played borderlands 2 and liked the story, but the gameplay was nooooot good for me, maybe id have fun?
The Boss Rush Network | Be Better. ()
Trouble Brewing in The Borderlands: Tiny Tina's Wonderlands Announced
Sen :) check 📌 ()
Watched the wonderlands trailer Fucking Gearbox fr took their best Borderlands dlc and made it into an entire game
Countess Sumirya🍷🦇🌙🌕🕯🍓 ()
I need a non-wow/ffxiv gaming buddy 😭 i would like to play destiny 2/Borderlands/ or just random games with a one or a couple people like we can be our go to group for cool games that come out. Would be so dope.
Novato ()
Hj teve anuncio de jogo novo da fromsftware e de borderlands novo Deus foi real bom com seu soldado hj
但木 一真 Kazuma Tadaki ()
いきなりボーダーランズのスピンオフ発表キターーー!!!
IGN ()
Check out the action-packed announcement trailer for the Borderlands spinoff Tiny Tina's Wonderlands featuring Andy Samberg, Wanda Sykes, Will Arnett, and Ashly Burch.
Wakkap ()
¡Ya es oficial! @MeridiemGames nos traerá en exclusiva Tribes of Midgard, lo nuevo del estudio de Borderlands a PS4 y PS5 ¡Ya está disponible en reserva!
Joey ()
@PSN_ElectricDC It took me way too long to realize that Wonderlands is just a fantasy play on Borderlands. 😂
Cyootie ()
@LilAssX @F3rz28 didn't season x have a borderlands poi that put a cell shading effect on any skin?
Dr. Zoey™ PhD. ()
also i wasnt a fan of borderlands 3 but im a big tiny tina stan so im interested to see what wonderlands has got going on
May ufo emoji ()
@Krypto_Drago not even her, the borderlands riftzone was the first cell shaded thing in the game
MadWelsh🍀 ()
@IntruderTimmy Finally a reason to plan a Borderlands game again! Best dlc Imo!
Riot Kaeyi 👊🏻 ()
LOOK AT IT! High fantasy borderlands with Tiny Tina as the bunker basically a whole game like the BEST Borderlands DLC ever. Sign me RIGHT up! 👏🏻
Jhonatan Carneiro ()
@canalbentobeta Nossa, sim! Pra mim, o DLC da Tina é o melhor conteúdo de toda a franquia Borderlands. Também fiquei bem animado.
NintenBoxer ()
El juego que preparan 2K Games y Gearbox Software es #TinyTinasWonderlands, un spin-off de Borderlands que llegará a principio de 2022.
Adi ()
@RickKackis @PlayWonderlands Actually living for it. Tina easily became one of the most beloved characters in the Borderlands series. Hyped for it is an understatement.
David / Mondaiji ()
@PSN_ElectricDC I was honestly not expecting much from the first stream. But damn I am Happy. Borderlands Spin-Off Elden Ring New Tales of Arise Trailer I am very happy right now lol
⛧ Comrade 💋 Smooches ⛧ ()
idk how anyone can even bear to LOOK at shit like Godfall or Borderlands 3 or that trash reboot of Dark Alliance
The Geek Stories ()
Bueno, estáis hablando con un fan de la saga #Borderlands, adivinad que me voy a comprar sí o sí. (Cuando salga obviamente) #SummerGameFest
GTML Saeed ()
THEY REALLY TURNED THE TINY TINA DLC FROM BORDERLANDS 2 INTO A GAME???? IM SOLD!! THAT DLC WAS ONE OF MY FAVOURITE DLCs EVER
MHG 💥 ()
#Borderlands is back with a new #TinyTina title. Join @Hero_Beyond as he tries to say that five times fast! @GearboxOfficial
The Escapist ()
Tiny Tina's Wonderlands Revealed as Borderlands Spinoff with All-Star Cast #News #VideoGames
RiB| KURO-Hayabusa ()
@MegamattX86 @Ocielootles It looks cool forsure. But Borderlands kinda fell off for me after the newest one lol. I got faith itll be good tho
Borderlands 3 ()
Tiny Tina's Wonderlands arrives early 2022! Who wants to craft a character? Maybe get a group together?! 🐰💣
Pedro R. "ElectroCereal" M. Andreo ()
Osea, quicir. Un Borderlands full DnD y un Metal Slug tactics. Alguien me está leyendo el puto cerebro en algún sitio #SummerGameFest

NESbot ()
Wonderlands, a new standalone borderlands game coming early 2022

Polygon ()
Tiny Tina's Wonderlands is a fantasy twist on the Borderlands formula
Borderlands 3 ()
Today's changes to Borderlands 3 activate the True Trials event for the Trial of Instinct and adjust some weapon values. 📝