Doja Twitter Trend : Most Popular Tweets | Worldwide
- Vc n era um portal de rap? - mas Azealia, Megan e Doja são rappers - não, são hip-hoppers ☠️☠️☠️☠️☠️☠️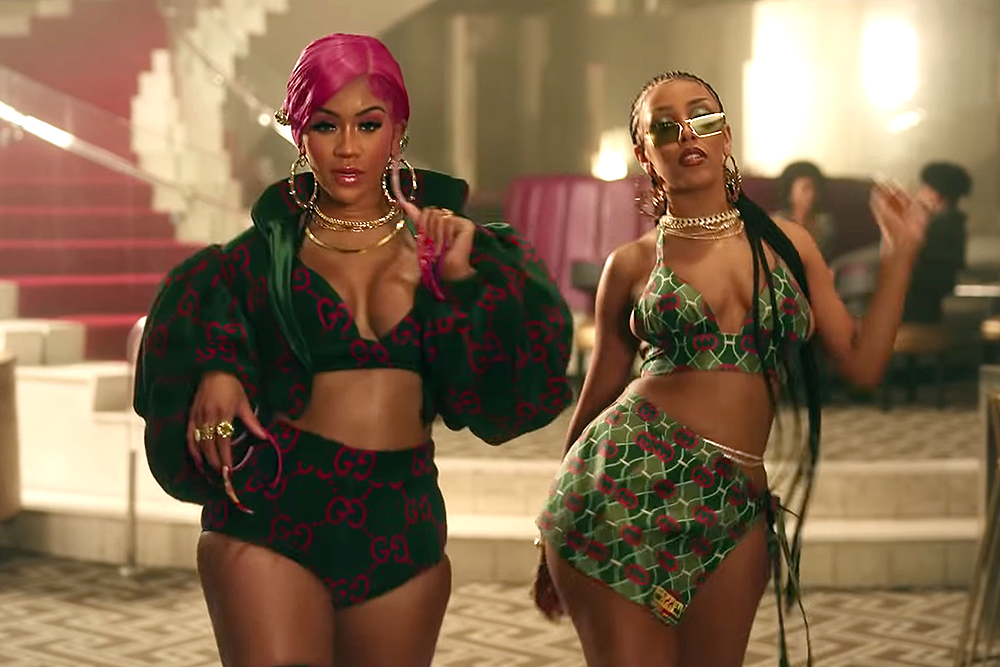 Doja on Twitter
J ()
you could tell doja liked 34+35 a lot more than motive so i'm glad she's on the remix
Taehyung Supremacy ()
@NICKIBEYARI @onikaxrobyn I hope Doja destroys her on the track 😍
Ángel 𝙼𝚢 𝚝𝚎𝚊𝚛𝚜 𝚛𝚒𝚌𝚘𝚌𝚑𝚎𝚝 ✨ ()
Zayn malik lanzará album, Ariana Grande lanzará Remix de 34+35 con Doja Cat y Megan Thee Stallion, Selena Gomez lanzará una canción completamente en español. Definitivamente si sos parte del Stan de alguno de ellos esta noche no se duerte
Pop Base ()
Doja Cat and Megan Thee Stallion confirmed their relationship with an Instagram post. Congratulations to the new couple.🎉 Forever n then some.
JONGIN DAY 🐻 ()
NO WHY DO YOU WANT WONHO AND DOJA CAT NOOOO — because she's an insanely talented artist and so is he? 😭 they would sound good together
ᴊᴀʏ  ()
saweetie standing on doja cuz doja carrying the song we love sybolism
Bestie in a tessie ()
Tap the link below to purchase Best Friend on Saweetie's website!! ⬇️⬇️
Danaé⁴ ()
Hi! @Q92 Can you play Best Friend by (Saweetie feat. Doja Cat). We would really appreciate it if it was added to the rotation. Thank you! 😍😘💜
Nicki⚔️⚔️gaga ()
We love to see NICKI MINAJ X Doja cat X Ariana Grande omg DNA purrrrr
Danyul he/him ()
If its Doja Ari Nicki or Meg Doja Ari or Meg Nicki Ari or even Ari Doja Nicki and Meg we in for one helluva 34+35 remix
Nicki Minaj Crave ()
wowwww i just heard a snippet of doja cat on 34+35 ...and megan commented under ariana's post 👀
Megan ()
si llega a ser verdad q el remix es con doja cat y megan the stallion entonces prepárense para q el tema sea mil veces mas sexual jajsjsj i'm here for it
Sammy𓃠 ()
guys i have a people say i look like Doja but in reality i just look like the love of your life
Slvtty ()
@PopCrave a remander ariana taylor and dua are the queens of rap while young nicki, meghan and doja run pop
Li ()
@Lstcttttreprise @clitybarb There are two girls in the remix maybe doja and Magen or doja and Nicki
Guillerme ()
34+35 - Ariana Grande FT. Cardi B e Doja Cat (REMIX), se jsso for real eu não sei se vou gostar
3435 REMIX IS COMING ❀ ()
preferiría que fuera nicki porque la amo demasiado pero si es doja me voy a poner demasiado feliz tmb
Caleb still illiterate ()
DOJA AND ANOTHER GIRL ON THE 3435 REMIX, I HEAR ANOTHER #1 WE MOVING
✨🌊 ()
@ArianaGrande Megan Thee Stallion commented under ari's ig post ! It might be a Ariana grande x Megan Thee stallion x ? (maybe Doja cat) Remix !!!!! 💃💃
Ezzy Allan Poe ()
@princesstekeia Ima say this now and I may not ever say it again so screenshot it while it's Doja the next best female artist since Nicki Minaj music wise. I'm sure this next album will confirm it
RAP MAIS ()
- Vc n era um portal de rap? - mas Azealia, Megan e Doja são rappers - não, são hip-hoppers ☠️☠️☠️☠️☠️☠️

Variety ()
.@DojaCat, @PopSmoke10, Tones and I, More Score Multiple Multiplatinum Awards
Rap-Up ()
Azealia Banks body shames Megan Thee Stallion and Doja Cat
Imani is streaming best friend ()
@dojascookiejar plss 😭 i lowkey want to uninstall it but the next time i see someone tweeting about how they got to meet doja i'll probably reinstall it and try again even though it gives me an intense headache
Lex ()
doja really got on ig live and ended it like two seconds later and said "i only wanted to jump on live real quick because i'm petty" MA'AM ?? GOODBYE
Alyssa🍯 ()
DOJA REALLY WENT ON LIVE FOR A COUPLE MINUTES IN THE BATHROOM AND DIPPED HAHHHAHAHAHAHA
𖧵 jas is a fan account⁷ ❀ ()
positions leak album leaked snippet ariana grande leaked song leaks snippet leaked ag6 position cover albums tracks 34 35 tracklist doja the weeknd
Explaining sarah lugor ()
@sarahlugor Sarah says that Doja Cat and Saweetie were playing with gay people when they made a video where they held hands and jumped off a cliff naked.
Doja Wurld WAS RESTRICTED ()
Saweetie just confirmed on an Instagram Live Stream that she and Doja Cat had to travel to Greece to film the final scene in which they skinny dip!! #BestFriend
Rap-Up ()
🎥 @Saweetie and @DojaCat celebrate their friendship in the video for Best Friend