Genshin Impact Twitter Trend : Most Popular Tweets | Worldwide
ESTA NOCHE SE VIENE EL JUEGO DE WAIFUS DEFINITIVO. Me voy a gastar mucho dinero en el Genshin Impact en directo. Empezamos ya. @GenshinImpact #GenshinImpact #miHoYo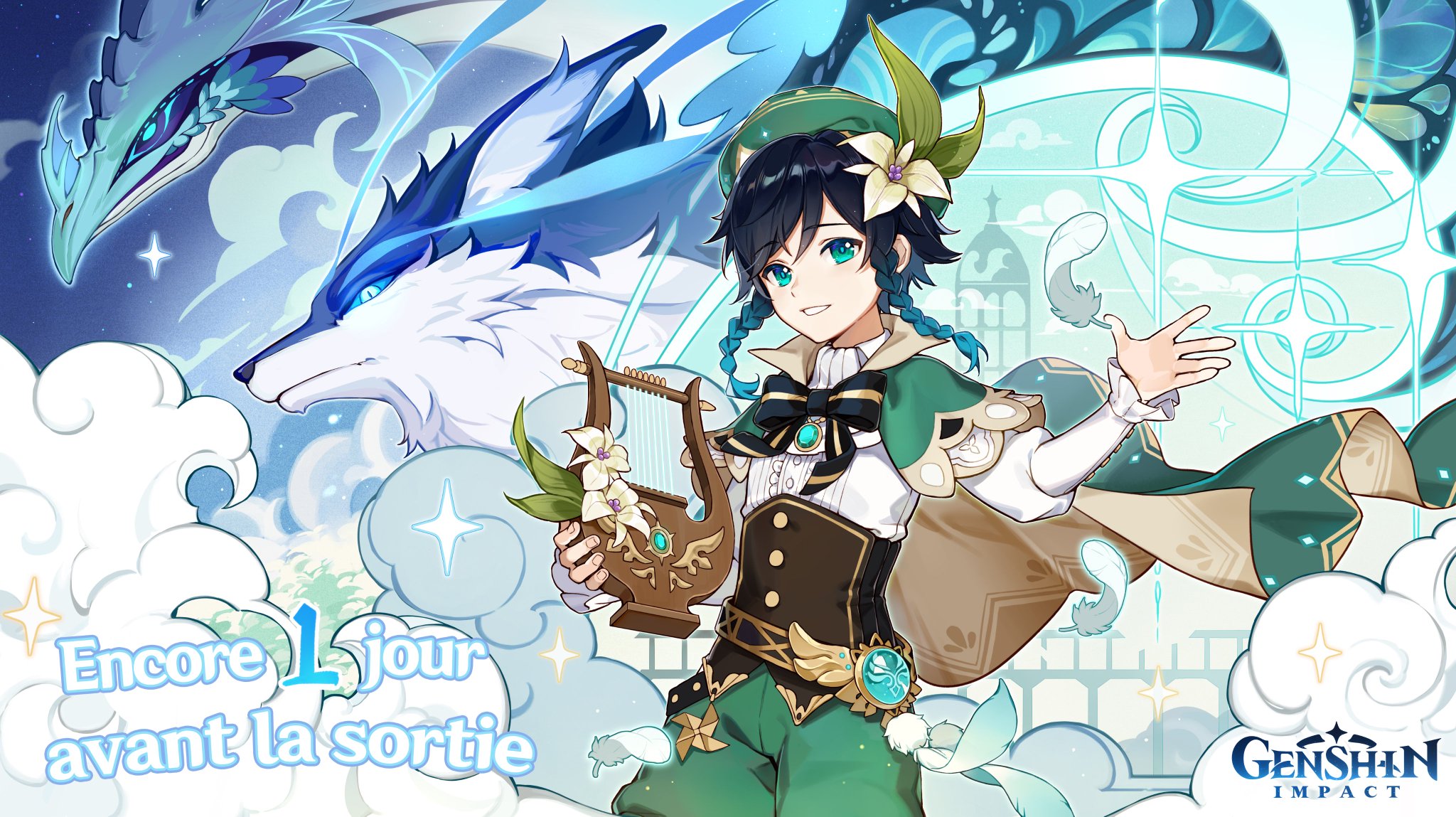 Genshin Impact on Twitter
이시우🐾Siu Lee 【NIJISANJI KR】 ()
( 10月 1日 11:30~) 게릴라 라이브 예정입니다. ▶️ 🎮 원신 ( Genshin Impact ) 🐾 치치 이젠 너뿐이야 #SIU_SeeU
🍞 mai shibako ໒・ﻌ・७ | new Vtuber 🐾 ()
Good afternoon~ I really enjoyed playing BOTW and I am hearing that Genshin Impact is similar to it. Should I stream it sometime, pups ? shiba 🐾🍞
Final Weapon ()
Genshin Impact is featured on the cover of Famitsu this week
✨Riri✨Lost my life to Genshin Impact ()
i dont need food i need husbandos and waifus in genshin impact i have found my true priorities
Leo Zahri ()
Gente, queria tanto streamar Genshin Impact no full, mas as GTX 20xx tão muito caras 😭😭😭 @kabumcombr , pq não me salvas?
Letícia Motta ()
É o jogo do momento, o Genshin vou tentar abrir live dele sim, só não sei se hoje ainda
LDM Koi #LDMcrew ()
El genshin impact es pedazo de juego, jugarlo horas y no aburrirme de farmear o explorar!!! c:
Tessa ()
plus que 5h avant la fin du téléchargement de genshin impact
KadukuNewNew| 3D DEBUT OCT 10th ()
i didnt know they added the fortnite cube into Genshin Impact
Christopher ()
Had fun on bo4 today. Thanks for watching the stream be live later with genshin impact or some party games
Miabyte Senpai ミアバイト ✨🌑✨ ()
I had so much fun with Genshin Impact today. Rank 10 now. We are also 50 followers away from 20,000 followers on twitch. If we hit it by next Fridays stream I will drop £100 on pulls for Genshin, and we will pull all the waifus. I promise. 💖
Aura 🏳️‍🌈 ()
you: last of us 2 is game of the year because it cost 80 hundred million dollars to make and i cried twice me: genshin impact has a quest where you have to feed ducks and you can sit there and watch them eat and chill
Lázaro ()
Una pasada el Mafia, queda apuntado para retomarlo en un futuro! Que ahora vamos hasta arriba 😂 El Genshin Es exactamente lo que esperaba xD No es mal juego, pero no soy su target. Seguiré hasta probar el coop aún así, quizás me enganche más. Gracias por el apoyo 💜
3 Gordos Bastardos ()
Arrancamos con el stream de Genshin Impact, pasen a saludar! -
Janjan ()
Imane just convinced me to play Genshin Impact. It makes me so happy hearing her talk so happily about a game. 💕💕💕
Elrubius ()
ESTA NOCHE SE VIENE EL JUEGO DE WAIFUS DEFINITIVO. Me voy a gastar mucho dinero en el Genshin Impact en directo. Empezamos ya. @GenshinImpact #GenshinImpact #miHoYo
°ღ•mari•ღ° | selca no 📌 ()
na minha tml só tem genshin impact eu tô com medo dessa coisa estar hipnotizando af todo mundo com nome bonito vo trocar o meu agora .
Bahroo ()
Time for more Genshin Impact I wont spend money I wont spend money I wont spend money I wont spend money I wont spend money I wont spend money I wont spend money I wont spend money I wont spend money I wont spend money I wont spend money
Marrazan 🔞 ()
Started Genshin Impact recently, there was a character that caugh my 🧙‍♀️ #GenshinImpact
Ceroro ()
im so insanely impressed by the layout and atmosphere of the cities / towns of genshin impact holy shit
LaPeceraTONTA #HDF ()
Buenos Días Peceros! Me levanto para jugar a Genshin Impact, menudo vicio que llevo jajajajajaja
PlayStation ()
Harness the power of the elements and embark on an open world, free to play adventure. Genshin Impact is now live on PS4:
PlayStation ()
Teyvat awaits, Traveler. Genshin Impact is now live on PS4:
Fornax ()
Genshin Impact tease son prochain perso Dainsleif. Apparement son seiyuu est Kenjirou Tsuda (Kaiba !). Alors prono sur son élément ? #genshinimpact
Hydros ()
Can you buy Gems/Crystals on Genshin Impact PC Version for those who played the PC Beta?
⚜ Madame Astaroth ⚜ ()
Los que no sepan todavía que el Genshin Impact es un GACHA, hola, [email protected] al pozo.
Ariana (not Grande) ()
estoy llorando en cuarenta y siete idiomas diferentes, por fin estoy descargando el genshin impact ;----;
Ryuji Black ()
Estamos en Twitch en el TOKYO GAME SHOW de BLEACH y GENSHIN IMPACT. Aquí el enlace:
Genshin Impact FR ()
Encore 1 jour avant le lancement mondial de Genshin Impact sur PlayStation®4, iOS, Android et PC. Vous attendiez ce moment avec impatience, non ? Allez, venez écouter ma chanson en compagnie des 4 Vents ! Pré-téléchargement : #GenshinImpact #DernierJour
Paimon ()
Just 2 days until the global release of Genshin Impact on PlayStation®, iOS, Android, and PC! This bit of cooking I learned from Xiangling will definitely surprise you! Head over to our Official Site to Pre-download the PC version >>> #Genshinimpact