#ImpeachmentDay Twitter Trend : Most Popular Tweets | Worldwide
A rapist, a racist, and a terrorist walk into a bar. The bartender asks, What are you having Mr Trump? #ImpeachmentDay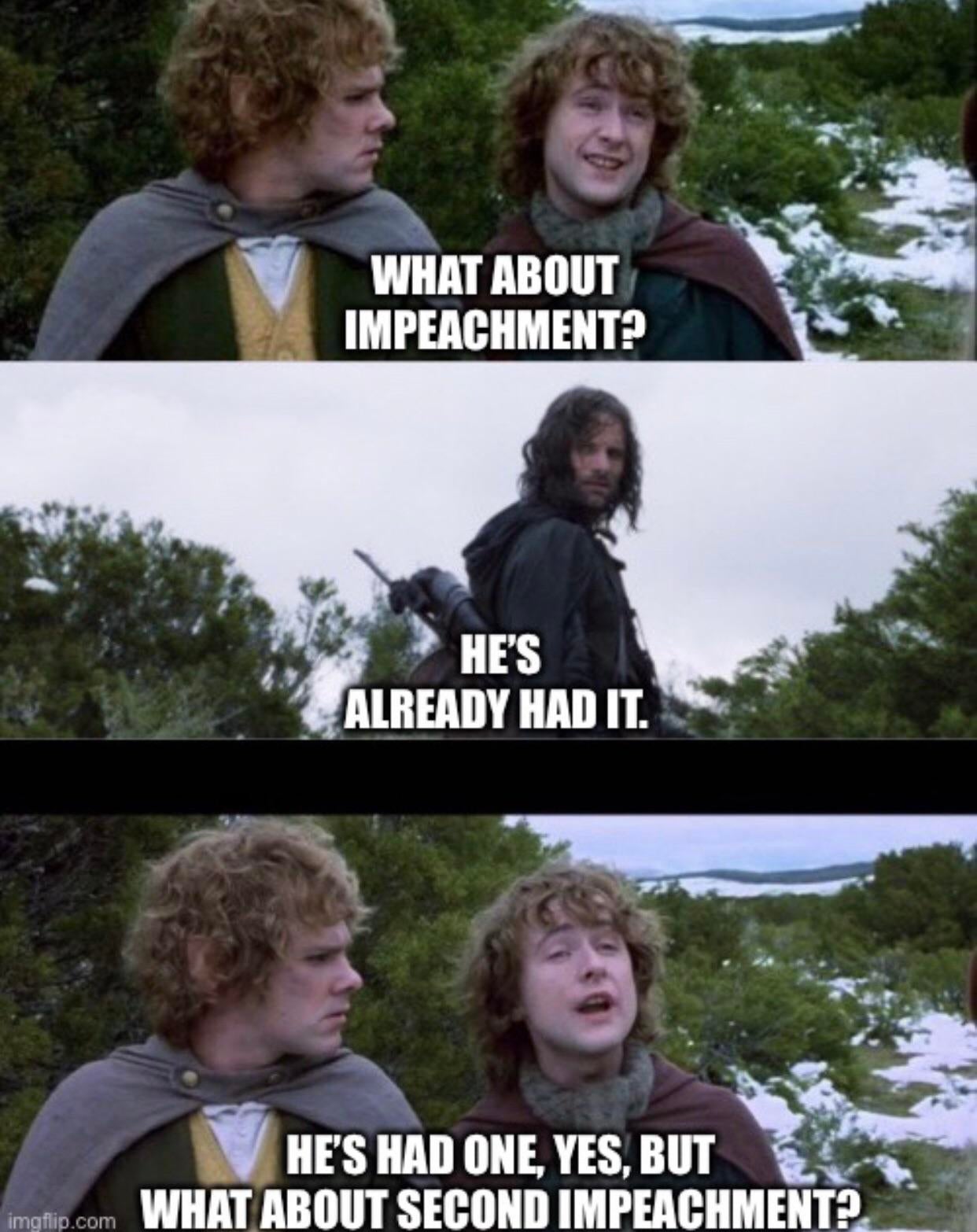 #ImpeachmentDay on Twitter
Deanna ()
These Republicans in the house are absolutely disgusting. Especially Jim Jordan #ImpeachmentDay #ImpeachTrump
Jordan Bridgeman ()
House republicans accusing house democrats of trying to play politics and play political then goes on to reference doctor Martin Luther yeah republicans with the usual double standard. #ImpeachmentDay
Apolonia_Milan ()
🎉 Happy 2nd #ImpeachmentDay of Donald J. Trump 🥂🍾 Sidebar 👇🏽 He deserves to be impeached 10 times with all the crime'n he's done w/ his no good one term self!
Abbie Fine ()
Impeachment Day: The Chaos Returns! I hope the sequel is better than the original 🤞 #ImpeachandRemove #ImpeachmentDay
Robert McCarthy: #ImpeachTrump #BlackLivesMatter ()
BREAKING: Lawmakers are now entering the House Chamber to begin the impeachment proceedings. #ImpeachmentDay #ImpeachTrump
AutumnalEquinox🌈 ()
IM SO READY FOR A SECOND IMPEACHMENT FOR TRUMPF! HAPPY BIRTHDAY TO ME!!!!!! #ImpeachTrumpAgainNOW #ImpeachmentDay
Aadil Brar ()
I think if a person is rebuked twice they should take it seriously, isn't? #ImpeachmentDay
Voodoo Trump ()
Trump's first impeachment was baby shit compared to now. Twice is nice! #ImpeachmentDay
Layla Bensassi ()
When was the last time we saw this ? 👇👇 this is how that loser scumbag Made America great again !! His gang playing angry because they did not accept that the Other Americans are not Racists #ImpeachTrumpNow #Impeachmentday
Elizabeth Schultz ()
Happy #ImpeachmentDay ❤️❤️ so bipartisan even Mitch McConnell is happy about it.
Lynn Brewster ()
@BostonGlobe NOW they're concerned about unity and healing! Where the hell have y'all been for the past 4 years!!! #ImpeachmentDay
SilverBlaze38mu ()
Happy #ImpeachmentDay America (not you terrorist #Trumpanzees no one fkin likes you) This time can we actually impeach the [words that get you banned], thank you.
Sportswear Gear ()
Round 1: "It was a perfect call." Round 2: "My insurrection speech was totally appropriate." 🙄 #ImpeachmentDay
Alex ()
Republicans waking up on #ImpeachmentDay realizing their dear leader is about to become the first president to be impeached Now that's what you call impeachment
Jonie1303 #NHSLove💙 #corbynwasright #gtto ()
#ImpeachmentDay drag that terror inciting terrorist out of the WH

Miguel ()
#ImpeachmentDay resign and save the nation this embarrassing 2nd Impeachment. so much winning. do the right thing like Milhouse Nixon did, resign
Kate Moss 🌊 ()
Who feels like having a President impeached for a second time today? I'm in. 🙋‍♀️ #ImpeachmentDay
Jeffrey Kohlman ()
"There has never been a greater betrayal by a President of the United States of his office and his oath to the Constitution." -Liz Cheney #ImpeachmentDay
Tomi T Ahonen ()
A rapist, a racist, and a terrorist walk into a bar. The bartender asks, What are you having Mr Trump? #ImpeachmentDay
Aman singh ()
Democrates: We want to unite the country. Democrates:Happy #ImpeachmentDay. Democrats should be ashamed on themselves.
De la Hoyas Coke dealer ()
Trump is a fascist!! and the morons who voted for him are also fascist #ImpeachmentDay
Topid🦜🦜🦜 ()
Remember, if Mike Pence sees his shadow, we got one more week of Trump. #ImpeachmentDay
Melissa Chambers ()
Is it in bad form to wear the same outfit I wore to Trump's last impeachment? #ImpeachmentDay
George boseman ()
#ImpeachmentDay Democrats are obsessed with it and Donald J Trump and the Republican Party are obsessed with replacing our democracy will fascism
Crush MAGA Terrorism ()
#ImpeachmentDay Dear brain dead #MAGATerrorists , Your cult leader is going down today.
(((DeanObeidallah))) ()
For those waiting for the Republicans to do the right thing on impeachment the truth is it will never happen. Bottom line is people become Republicans so they never have to do the right thing. #ImpeachmentDay
Michael Morris ()
@mtgreenee you are a moron who believes crazy conspiracy theories. Try listening to real news sources. #PresidentElectBiden #ImpeachmentDay
Danny ()
There should never have had to be a second #ImpeachmentDay but here we are. Hope it goes quickly and he becomes the first President to be convicted by the Senate. Then, as soon as possible, the first former President to be imprisoned.
Scott Dworkin ()
Let's see how many retweets we can get on this. Ready, go! #ImpeachmentDay
Scott Dworkin ()
Translation: He will be throwing meatloaf at the tv all day #ImpeachmentDay