Interstella 5555 Twitter Trend : Most Popular Tweets | Worldwide
thinking about being 11 and exploring limewire, searching "daft punk music videos" and seeing interstella 5555 piece by piece. seeing that fusion of electronic music and anime for the very first time . haahhhhhhghj damn i am crying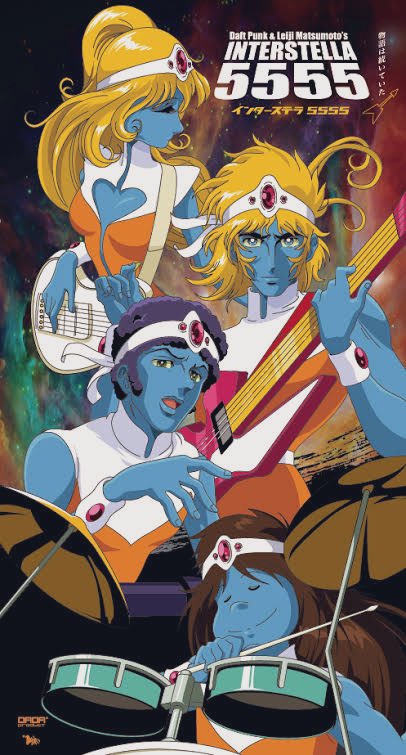 Interstella 5555 on Twitter
Kevin Vibert ()
How have I never seen the Daft Punk movie before today. How did I let a movie called Interstella 5555: The 5tory of the 5ecret 5tar 5ystem exist without me seeing it
(((Oscar Gastélum))) ()
Acabo de volver a ver Interstella 5555. Qué cosa tan hermosa, chillé más que con el final de The Mandalorian. Recomiendo. Terapéutico… 👌🏻 #DaftPunkForever
Jenny Jaffe ()
I mean if you're gonna watch Interstella 5555, today is the day to do it. #DaftPunkForever
Daniel Pedraza ()
@CherryOda Que también le pongan cuidado a la musicalización, para mi como expuse en otro trino es una balada house y es el eje de la narración del largometraje animado Interstella 5555: The 5tory of the 5ecret 5tar 5ystem.
Daniel Celestino ()
Claro que nesse dia eu precisei rever Interstella 5555 depois de mais de uma década. Esse DVD vale muito, muito mais do que os R$ 8,00 que paguei nele. Essa parceria pesada de Daft Punk e Leiji Matsumoto continua sendo uma obra fascinante.
Michi ()
Everyone posting clips from Interstella 5555 🥺😭😭😭😭🥺🥺🥺😭😭
Nᴇʀᴅ Rᴇᴠᴇʀsᴏ ()
Pensei em fazer um top 10 de músicas do Daft Punk, mas é mais fácil recomendar que (re)vejam o Interstella 5555. O filme é lindo, o álbum é lindo, e fim de papo.
Ms. Roboto ()
19) Interstella 5555: The 5tory of the 5ecret 5tar 5ystem (2003)
Carol Cornils 🌺 ()
I still end up watching the full interstella 5555 every time a daft punk song pops up in my playlist thank you so much for all these years of music! ❤️ #DaftPunk
CUNII⅋FORM ()
As someone who only ever cared much about interstella 5555 and some alive 2007 remixes :(
📺 Low-Key Fe 📺 ()
From Homework to Discovery to Human After All, Daft Punk has been the most influential music act I've had in my life. My TV Head character is derived from my love for these two talented DJ's From Interstella 5555 to Electroma These Robots were Brilliant and will be
James Valle ()
Daft Punk graced many years of my life, especially in my youth. They also blessed us with this Leiji Matsumoto masterpiece, Interstella 5555. I still get feels listening to "Something About Us". The good news is—we all still get to enjoy their music forever! #DaftPunkForever
Sam Potter ()
Put on Interstella 5555 today after seeing the Daft Punk news. Discovery is by far still in my top 5 albums. I never skip a song listening to it. Might have to give Inside the Pyramid another read sometime soon as well 😭
gabriel 気波ぞ ()
interstella 5555. // - Nada mais justo do que isso pra esse dia de hoje. (Segue lá e ajuda o webamigo aqui ❤️) - #DaftPunk #Epilogue
Medelia de los cielos grises ()
Oigan, a poco para ustedes LA película de Daft Punk es Interstella 5555? :o Yo amo Electroma con cada partícula de mi ser. Tuve Human after all de nick en twitter como un año.
Cristian Baral ()
Podría estar velando con sentido dolor el final de Daft Punk y disfrutando por vez mil de Interstella 5555 pero elijo esquivarle al sufrimiento porque ya demasiado con la vida, así que me parece más sensato cuidarme y ver El Telo y la Tele de Hugo Sofovich en You Tube.
⸘Qué‽ ()
I first caught Interstella 5555 on Adult Swim at 2 am while staying at my uncle's place. Fell in love with the videos. This shook my gay little mind.
Marly Halpern-Graser ()
Obviously my favorite Daft Punk song is the entire Discovery album set to the visuals from Interstella 5555 but my second favorite is this one they did with Paul Williams
Supership79 ()
god, interstella 5555 is so freaking good. Its one of the best animes of the 2000s! supervised by the creator of Space Battleship Yamato and Galaxy Express 999. just a note perfect love letter to classic anime
Xavier Mouto[N]-Dubosc ()
@GrablyR pas aimé les deux derniers albums . Peu surpris par leur BO de Tron 2. Et toujours fan absolu de Homeworks et de Discovery. Et oui, deux DVD que je chéris : le best of de Gondri et Interstella 5555
The platinum lunky boy ()
turns out daft punk quit because vaporwave tumblrs wouldn't stop posting gifs of interstella 5555 overlaid with shitty VHS effects
Querelle(s) ()
Ce soir, 23H00, chez querelle(s), un live impromptu: clips, interstella 5555, la BOF de Tron, nous revenons sur #daftpunk et le cinéma.
🌛 𝔸𝕝𝕒𝕤𝕜𝕒 🌜 ()
@JJoshhh Interstella 5555 was such a classic i remember watching that on Toonami. Might have to watch that later
𝐓𝐡𝐞 𝐌𝐞𝐧 𝐁𝐞𝐡𝐢𝐧𝐝 𝐓𝐡𝐞 𝐃𝐰𝐲𝐞𝐫 🤠💥 ()
@kkkrakkker am gutted remember the 1st time as a nipper watching the interstella 5555 movie and having my head blown off
Laura Frías ()
Lunes de bajón :( Hoy en loop el Alive 2007 y en la noche ver Interstella 5555. #DaftPunk @AlekMX
˙I˙I˙I˙Λ˙⅁ ()
Daft Punk ~ Interstella 5555: The 5tory of the 5ecret 5tar 5ystem (2003) via @YouTube
Mj ☽ ()
Una de mis cosas favoritas y especiales del mundo es Interstella 5555, siempre que la veo de nuevo es como la primera vez
Drinking Gamer Tears | Black Lives Matter ()
@vanillavial After moving: *pulls up interstella 5555 immediately after putting my anime figs back into my pc and booting it up* huh?
Rique Sampaio ()
Uma das muitas parcerias fantásticas que Daft Punk realizou em sua carreira foi com o estúdio de animação Toei e o artista Leiji Matsumoto para a criação de Interstella 5555, longa de animação que acompanha o álbum Discovery. Uma das minhas cenas favoritas:
Porter robinson ()
thinking about being 11 and exploring limewire, searching "daft punk music videos" and seeing interstella 5555 piece by piece. seeing that fusion of electronic music and anime for the very first time . haahhhhhhghj damn i am crying