Jeff Van Drew Twitter Trend : Most Popular Tweets | Worldwide
NJs Jeff Van Drew: Nearly half the country supports our current president - this takes their voice away (He voted to throw out PA and AZ votes)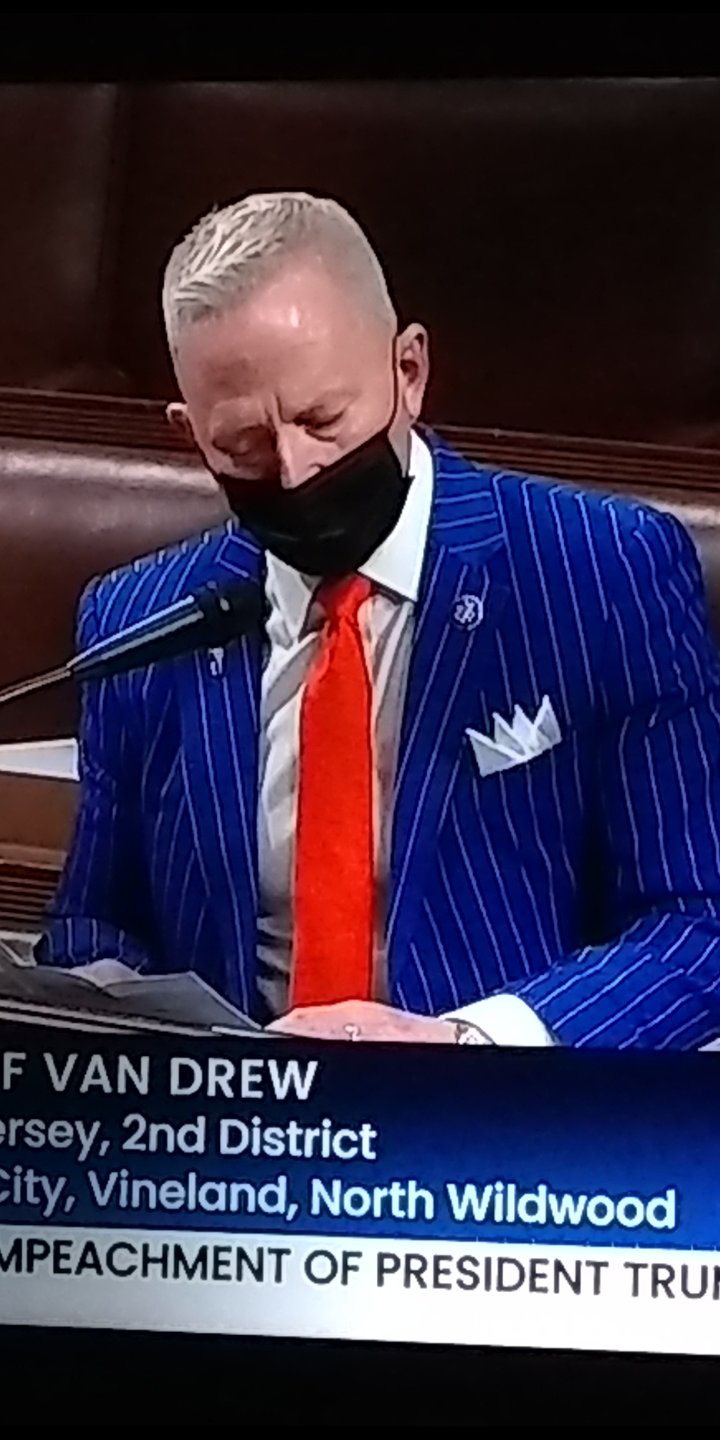 Jeff Van Drew on Twitter

@amys_bus_ticket 🌊#PaperBallots ()
Pretty sure Rep Jeff Van Drew is a caricature. Not sure what is outfits are code for.
Renee Gauthier ()
I vote to impeach Jeff Van Drew for his aggressively bright striped suit to his droplet giving nose peeping out his mask. #impeachment
Jessica ()
Has anyone checked on Sonic the Hedgehog lately bc it looks like this dude Jeff Van Drew made a freaking suit out of him. What's going on in Atlantic City man
DianaOG ()
@CongressmanJVD Congressman Jeff Van Drew's statements should be stricken from the record for wearing that suit.
Nathalie Redondo ()
Rep. Jeff Van Drew, former Democrat turned Republican after the last impeachment attempt, says: We've been here before. We've done this before. This has failed before. We fractured our nation using the same process before.
Radical Lefty ✌️ ()
Reason 1,000,001 why I left New Jersey 25 years ago is because men continue to dress like they're in a Goodfellas movie. Exhibit A GOP New Jersey Rep. Jeff Van Drew 😬
Mollyswordmcdonough 🌊 ()
@FullFrontalSamB We know Jeff Van Drew @CongressmanJVD as a turncoat in New Jersey. Wish he had taken that literally, instead of politically.
Katia Yaga🗽 ()
Jeff Van Drew (R-The Fire Island Production of Guys and Dolls), looking Extra Dapper today.

Doug Widney ()
Impeachment debate. Rep. Jeff Van Drew, who left the Democratic party for Trump, might have been, while still a democrat, what you could refer to as a Trumpocrat (Trumpicrat?). However, he might soon be more than neutralized by a flood of Bidenicans. Myself already being one.
TJ Helmstetter ()
@timjhogan Said Jeff Van Drew who rode a Democratic wave into Congress and then switched parties, taking his constituents' voices away.
Daniel Dale ()
Rep. Jeff Van Drew, who voted to overturn the election: Congress must be the glue that starts unifying we want unity, this is not the must be bigger and better than the most base of instincts that have been driving our political discourse.
Tim Hogan ()
Nearly half the country supports our current President. This takes their voice away, says Jeff Van Drew, who voted to throw out election results from Pennsylvania and Arizona.
Jonathan Tamari ()
NJs Jeff Van Drew: Nearly half the country supports our current president - this takes their voice away (He voted to throw out PA and AZ votes)