Jokic Twitter Trend : Most Popular Tweets | Worldwide
When Nikola Jokic is officially announced as MVP, it would mark the third straight season where we have an international MVP. It would be the second time that's happened in NBA history — Steve Nash (2x) and Dirk Nowitzki in 2005-07. It's a global game.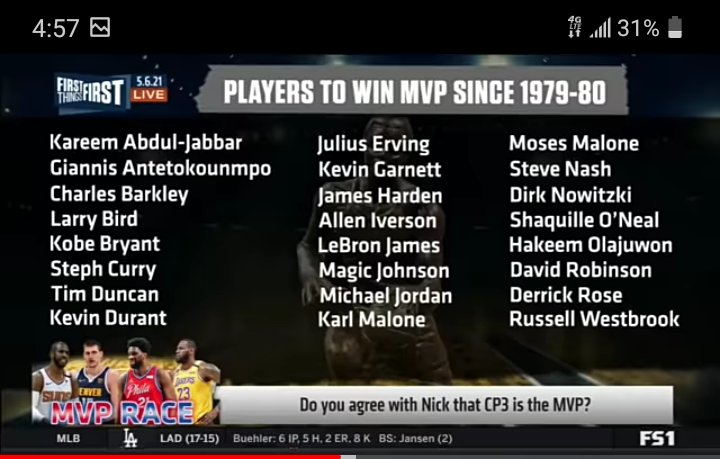 Jokic on Twitter
Ece Karaosmanoğlu ()
MVP: Jokic DPOY: Ben Simmons ROY: Lamelo Ball 6MOY: Jordan Clarkson o Derrick Rose MIP: Julius Randle COY: Monty Williams
Andy Glockner ()
Jokic ends the season having played every game and averaging 26-11-8 on 57-39-87 shooting. The volume/efficiency combo is unmatched in NBA history.

HoopsHype ()
Nikola Jokic is the only All-Star to play the full schedule this season. He would be the first MVP not to miss a single game since Kobe Bryant in 2007-08.

Skip Bayless ()
LeBron just said Steph should be MVP ... probably because the Lakers now have to face him in a play-in game Wednesday night. Somewhere Jokic is rolling his eyes. Embiid, too.
Kendrick Perkins ()
Yep I might as well go ahead and throw in the towel! After Jokic triple double performance tonight and with the 's safe to say that he has officially bagged that MVP trophy. Carry the hell
NBA ()
Nikola Jokic and the @nuggets stay within 1 game of LAC for 3rd place in the West. Markus Howard: 15 PTS (career high) Vlatko Cancar: 14 PTS (career high) JaVale McGee: 12 PTS, 13 REB, 2 BLK
SwipaCam ()
@HarrisonWind I think it will be on par with KD's "You da MVP" speech. But in Jokic's own way. Humility. A thick-Serbian accent that's displays his uncomfortableness with admitting he was the baddest man in the NBA this season. His brothers will def cry. His
Aadan ()
Jokic's mvp speech is gonna be so Fucking hilarious and unique I can't wait. He could say like 5 words or 50, he could tell jokes or cry, I have no idea
SwipaCam ()
I could be I feel as if I can GUARANTEE that Nikola Jokic will cry during his MVP Acceptance Speech. Carrying his wife, his brothers, his family and Serbia on his back? The first SERBIAN NBA MVP! Oh, yeah he's crying.
Owen Phillips ()
bad calls that disadvantaged a player per game w/ a L2M report: Jokic: 14/26 = per game Gobert: 7/21 = Simmons: 6/21 =
SJ ()
hey at least jokic won't get knocked out of the first round in his MVP season. i still win.
HeatvsNuggets ()
Despite losing Murray, Nuggets has still had the best record since March! Jokic unanimous MVP!
Jake Lee ()
Which one of these teams would be favored to beat a fully loaded Blazers? Suns without Booker & CP3 Clippers without Kawhi & PG Nuggets without Jokic & MPJ Mavs without Luka & Hardaway Lakers without LeBron & AD Warriors without Steph & Wiggins Grizzlies without Ja & Brooks
Biased rockets stan 🚀 ()
Drummond can't even guard Tate and he is supposed to somehow stop Jokic 😂😂🤦🏾‍♂️
Adam Mares ()
Next up: which current Nuggets players would you like to see here long term other than Jokic, Murray, and MPJ?

Chris Palmer ()
If Russell Westbrook retired today here's how many triple doubles it would take to pass him on the All-Time List: LeBron 84, Harden 125, Jokic 127, Luka 148, Rondo 151, Simmons 151, Draymond 153, Giannis 158, CP3 167, De'Aaron 182 <—Westbrook's current total
₁₅𝕁𝕠𝕜𝕖𝕀𝕟𝔸𝔹𝕠𝕩 🃏 ()
@BiasedJokicFan passes leading to points, hence a play being made this season: Jokic: 582 Steph: 354

Henry Abbott ()
According to the NBA's Last Two Minute Reports, Jokic has been on the wrong end of a bad call a league-leading 14 times this season. Twice as many as the second-most player. Really recommend this whole story and everything from @owenlhjphillips
TrashTalk ()
Moses Malone : non-drafté Kobe Bryant : 13ème pick de Draft Karl Malone : 13ème pick de Draft Julius Erving : 12ème pick de Draft Giannis Antetokounmpo : 15ème pick de Draft Nikola Jokic… … 41ème pick de Draft. 🤷‍♂️🤷‍♂️🤷‍♂️🤷‍♂️🤷‍♂️
50 Nuances de NBA ()
« Jokic est clairement le MVP cette année » 🗣 Pour Steve Nash il n'y a pas de débat, c'est bien Jokic le meilleur joueur de la saison 💪 Par contre ça n'a pas empêché les Nets de taper les Nuggets hier soir 😅
Felce Azzurro ()
Jokić mora biti MVP samo iz razloga što mu je ekipa četvrta na jakom zapadu, a u njoj 15 minuta igra Vlatko Čančar.
Guin ()
KD always loving up on Jokic and it makes me smile everytime ❤️
Joker Jokic ()
Zverev dün Nadal'ı set dahi vermeden geçti bu maçta favori olmasının en büyük nedeni bu. Thiem burada en iyi tenisini oynamasa da Zverev'e karşı hep üstünlük kurdu. Aralarında ki 10 maçta 8-2 üstünlüğü var. Toprakta ise 4-1. Stake 8
Dillon 💫 ()
Players Who Can Win A Championship as a #1 Option: (No Order, In My Opinion) 1. LeBron James 2. Stephen Curry 3. James Harden 4. Kawhi Leonard 5. Giannis Antetokounmpo 6. Nikola Jokic (Luka Doncic)

Tony Jones ()
So is playoff kawhi So is playoff Chris Paul So is playoff Jokic So is playoff luka So is playoff dame So is playoff Steph
Nets Brasil 🇧🇷 (43-23) ()
Damian Lillard na sexta, Giannis no domingo e na terça, Luka na quinta e NIKOLA JOKIC no sábado FUCK @NBA
StatMuse ()
When Nikola Jokic is officially announced as MVP, it would mark the third straight season where we have an international MVP. It would be the second time that's happened in NBA history — Steve Nash (2x) and Dirk Nowitzki in 2005-07. It's a global game.
Jason Maples ()
You put pre injury derrick rose in a pace and space league with the floor spread out opposed to Noah and Taj Gibson sharing the floor together These cross era references severely lack context. Jokic may or may not have been better but to say rose nowhere close is nuts
Bonner MVP ()
Como odeiam Pqp, imagina se Jokic e Embiid, principalmente Jokic, fossem americanos e o CP3 fosse sérvio
Zona ()
Nikola Jokic is the MVP. The media is just bored and needs content to spin. Let the machine tire itself out.