#MadeinLagos Twitter Trend : The Most Popular Tweets | Worldwide
If Wizkid drops #MadeInLagos in July then that means it's coming same month as Davido's and Burna Boy's projects. The world go hear am because afrobeats go finally take over. It's about to be a Nigerian party world wide. 🔥💪🏽🇳🇬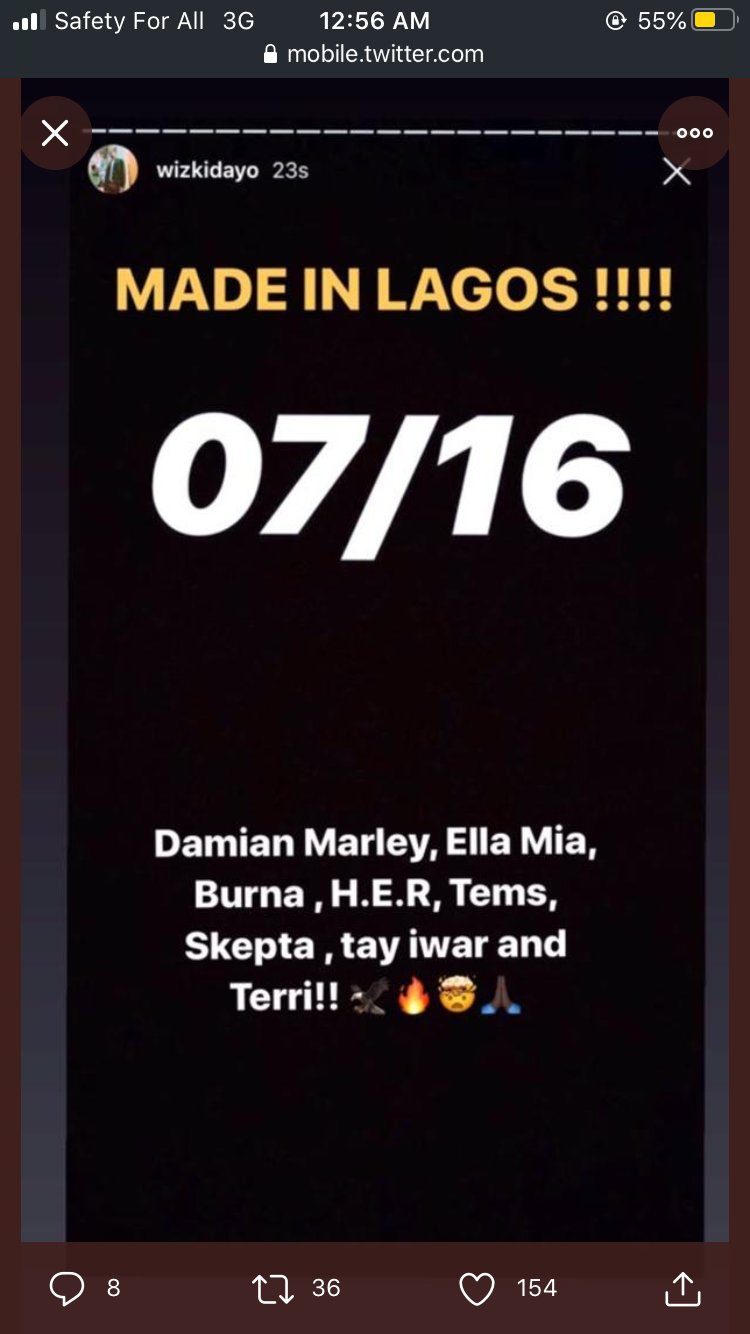 #MadeinLagos on Twitter
Jamal Phassion Empire ()
@bushman_paul PLS a retweet from youwill go a long way I sell Quality Plain Tees, Polo and Caps Tees: 1300 each 🧢: 750 each Designed 👕 #2500 I have all colors available in different sizes in wholesales 08168458086 FOR ORDERS AND ENQUIRIES Nigeria to UK Dr Funmilayo MadeinLagos
Wisdom Allison ()
At least 4 of d Acts on #MadeinLagos are 25 & below is 23 Tay Iwar is 23 Terri is Under 23 Ella Mai is 25 Wizkid about to Win with a Young Squad!!! Not Forgetting to put Legends like Darmian Marley & Burna on the Line up for the sake of experience!!! Una go hear am!!!
BenBlazeNg.Com.Ng ()
Wizkid Announces Names Of Featured Artistes & Producers On "#MadeInLagos" || See Full List!!
Heismiracleft ()
@Skeppy1586 @Mosopeogungbem3 #MadeinLagos i don tire, ona no wan follow me😭😭😭
Wizkid FC FACT ()
@wizkidayo X @HERMusicx Wizkid, Regarded as the Greatest Afrobeat Artiste of his generation, with multiple international award winning songs with Drake and Beyonce. With HER, expect the very best of R&B music. She won the best R&B album at the 2019 Grammy. #MadeinLagos
Emmy Jay ()
@Mosopeogungbem3 #MadeinLagos I'm a die hard Wiz fan but my followers ain't even up to 50. Please kindly follow me.🙏🙏
Branded ()
Retweet! retweet! retweet! Imagine this kinda flow in @wizkidayo #MadeinLagos Tag him ✊❤ Diane Nigeria to UK elozonam #DrFumilayo
Badmandella ()
MIl 07/16 ...BSG visual 31/16 two wordwide tinz ....My king holds double Grammy already #MadeinLagos
JUWONDAGRAPHER ()
#MadeinLagos i have a feeling there would be more surprise artist to feature on the album wizzy just dey tease us with this wan
Bottom_Pot ()
This probably might be my best birthday ever me and Wiz actually share the same birth month and day 16/07 fr fr but no loud am that dude 4L❤🦅🦅 #MadeinLagos
MTV Base West ()
#WizkidFC , looks like we have a date 🤯 @wizkidayo Made in Lagos July 16 🚀🚀🚀 #MadeinLagos
E ()
If Wizkid drops #MadeInLagos in July then that means it's coming same month as Davido's and Burna Boy's projects. The world go hear am because afrobeats go finally take over. It's about to be a Nigerian party world wide. 🔥💪🏽🇳🇬