#NXTTakeOver Twitter Trend : Most Popular Tweets | Worldwide
I don't have the title. However I'm still alive. I'm never gonna stop.😈👍🏻 #NXTTakeOver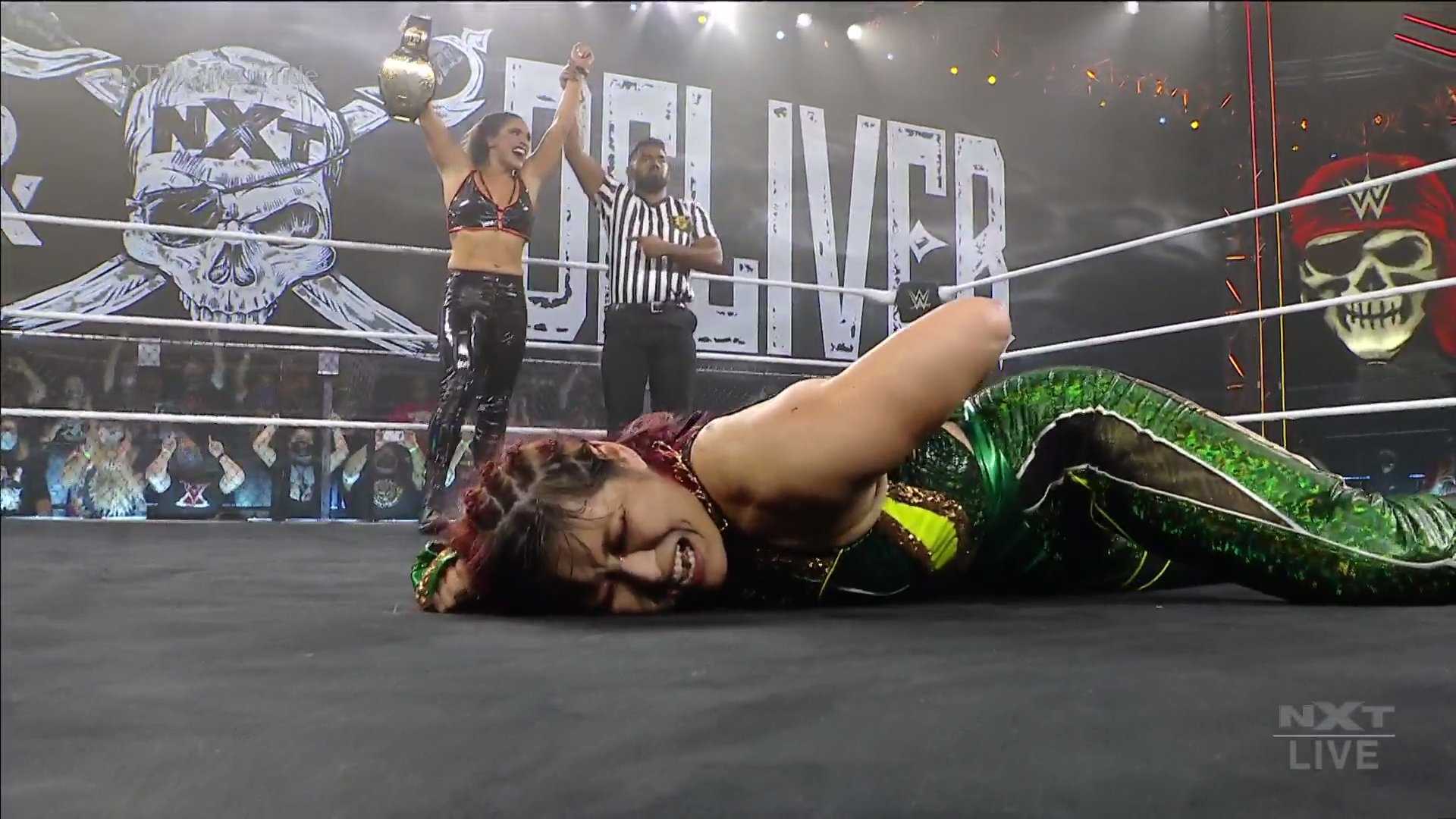 #NXTTakeOver on Twitter
WWE ()
The system has officially been SHOCKED.💥 #NXTTakeOver @KORcombat @AdamColePro
WWE NXT ()
You can never break the chain. ⛓️ 🎶 #NXTTakeOver @AdamColePro @KORcombat
Swashbuckling Joey Bowie 🏴‍☠️ ()
Nothing but love and respect for @FinnBalor. An incredible reign that added princely prestige to the #NXTTitle. ❌ #NXTTakeOver
Raj Giri ()
Who remembers watching Shawn Michaels vs. Razor Ramon at #WrestleMania 10 live? Didn't know what to expect going on, and was completely blown away. I rewatched that match so many times that year. #NXTTakeOver
Cultaholic Wrestling ()
Interesting fact there, this is the first ladder match for the NXT Cruiserweight Championship #NXTTakeOver
Wrestle Spike ()
Officiel @RaquelWWE est votre Nouvelle Championne #WWENXT! #NXTTakeOver
MaxGFX ()
MSK // THE LEGACY LIVES . . . @NashCarterWWE @WesLee_WWE #NXTTakeOver #MSK
紫雷イオ、Io Shirai ()
I don't have the title. However I'm still alive. I'm never gonna stop.😈👍🏻 #NXTTakeOver
WWE ()
Your dad is so proud of you, @NashCarterWWE. ❤️ #NXTTakeOver #AndNew
Rachel Struck ()
Someone backstage get some ice packs these boys are going to need them!!!! #NXTTakeOver
Wham ()
This is my favorite match of the week so far, and by god it's turning out to be one of my favorites this year. #NXTTakeOver
AskBillMitchell ()
I am just curious does anyone see Edward James Olmos or Lou Diamond Phillips in attendance at #NXTTakeOver Stand & Deliver? If not @WWE missed out on an epic meme moment.
Reasonable Wrestling Podcast ()
Yooooooooo Ciampa love for capital punishment is allowing him to push thru #NXTTakeOver
Eddie Monstar ()
waaaalter waaaalter waaalter #NXTTakeOver lo que mas me gusta de las luchas de walter y ciampa es que se dan golpes duros, nada de ay cuido a mi oponente nel. esto es lucha y ahi te va un machetazo de a deveras
Ancora imparo ()
i cant look at my TL, seems like everyone else is a lil head of my stream #NXTTakeover
Dex (He/Him) aka Marine Dad ()
Walter and Ciampa have stolen not just the show but more than likely the entire weekend #NXTTakeOver #StandAndDeliver
WrestlingINC.com ()
I feel like anybody who wants to call wrestling fake should have to receive one WALTER chop to see if it changes their terminology at all. #NXTTakeOver
Scott ()
WALTER & CIAMPA EXCHANGING CHOPS THIS IS INSANE 😱😱😱😱😱😱 #NXTTakeOver
TheGame MLL ⚪ ()
@weaponx93 Yeah those mics are SUPER sensitive and with a mainly empty arena they have a 15bsecond delay to fix audio crap #NXTTakeOver
Paul Stradley ()
Holy Hell!!! @NXTCiampa vs @WalterAUT is a fucking slugfest!!!! This Match is awesome!!! #NXTTakeOver
The Dude 🍻🍔🥓 ()
Those chops are about to destroy my surround sound!!! @WalterAUT @NXTCiampa #NXTTakeOver
Phil 🐻 ()
Why did they say we were getting a #NXTTakeOver??? Then just not have a break?
Phony Khan ()
AEW and AEW wrestlers/promoters begging people to watch their product is sad when they know that NXT won on their way out. #NXTTakeOver
Stimothy Thatcher ()
Counter after counter!! These two work So damn great together!! This Should be a NXT Title main event someday. #NXTTakeOver
SLLMania ()
Really big fan of these 2 so I honestly don't mind who just enjoying the action so far #NXTTakeOver
Seth Brooks ()
Love that even though there's no commercials on Peacock, the stream is so far behind it doesn't really matter lol #NXTTakeOver
K.R.S 🏴󠁧󠁢󠁷󠁬󠁳󠁿🏴󠁧󠁢󠁷󠁬󠁳󠁿 ()
Also no adverts for people in countries that still use the Network. Love to see it #NXTTakeOver
🇦🇺Josh Robinson🏳️‍🌈 ()
No commercials is the best because this airs on the @WWENetwork hell yeah #NXTTakeover

Marcus Yates ()
Always liked how they have the platform by the entrance to the ring only during a big event and NOTHING ELSE. #NXTTakeOver
Triple H ()
Hell yes!!! I want you to "stand and deliver" like only you hit us with something we've never heard before. I want the WORLD to hear us!!!! #WeAreNXT #NXTTakeOver