Percy Tau Twitter Trend : Most Popular Tweets | Worldwide
Excited to see Percy Tau in the Premier League - can't wait to see what he does with his chance in the big leagues… #BHAFC managed to get a work permit based on his #UCL appearances, it's why they had to recall now rather than at the end of the season. Big opportunity. 🇿🇦⚽️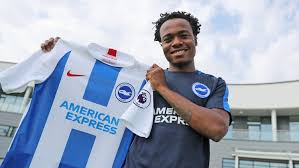 Percy Tau on Twitter
Charlie Haffenden ()
We spoke about Brighton's narrow 1-0 defeat to Man City on the @LetsTalkBHAFC podcast this evening. Talked a lot about that man Percy Tau making his Premier League debut! Looks like a very talented player from first impressions. 🇿🇦 Listen now on Spotify & iTunes 🎧 #BHAFC 🔵

Paddy Power ()
Percy Tau looks decent. Well worth the wait of over 900 days between him signing and making his debut.
Joe Crann ()
Percy Tau starting in the Premier League. Absolutely love to see it. 🇿🇦⚽️
Seagulls Central ()
👌 Percy Tau looked sharp tonight making his #BHAFC debut. 👊 Excellent touch, speed, made some good runs & turned his man a couple of times. 🇿🇦 Hopefully he will provide a different option for Brighton in the Premier League — he looked good tonight.
Neo Monyetsane ()
@OfficialBHAFC Come on guys we should have been at least 2-0 up by Do you really need Percy Tau to come against Newport? 🤷‍♂️
City Press ()
"Brighton has never at any point dropped the ball in ensuring that Percy [Tau] returns to the UK. This is what gave us confidence that this is home. Brighton is family-oriented, based on how they run the club." ~ Tau's agent Mmatsatsi Sefalafala
August Twii ()
@Gains_Hub Heban mara this guy got balls neh🙆‍♂️🙅‍♂️ | Telegram | Percy Tau | WhatsApp| #SmallAccounts
Mfana kaMa ()
I was getting ready for bed then I saw Percy Tau made Brighton's match day squad 🔥
Shakes Rampedi ()
Percy Tau could make his debut for Brighton tonight 🙌🏽🙌🏽🙌🏽🙌🏽🙌🏽🙌🏽 Named on the bench #FACup #EmiratesFACup
Daily Maverick ()
FOOTBALL: Percy Tau finally scores a chance to make his mark on English Premier League
Brighton Albion news ()
Percy Tau trains with Premier League club for the first time
Andy Naylor ()
From Tuesday, if you can stand more than 18 minutes of some bloke talking mainly about Percy Tau and turning into a rep for the Brighton Tourist Board. #BHAFC
Brown skin girl ()
How did Percy Tau escape from that maximum prison? 🤔🤔 Onenkinga ngalo mbuzo andifonele📞 😊
Joe Crann ()
Excited to see Percy Tau in the Premier League - can't wait to see what he does with his chance in the big leagues… #BHAFC managed to get a work permit based on his #UCL appearances, it's why they had to recall now rather than at the end of the season. Big opportunity. 🇿🇦⚽️
LukeWarmTakes27 ()
Seeing South African fans getting excited about Percy Tau coming to Brighton makes me excited 🇿🇦🇿🇦🇿🇦 #BHAFC
RichieMills ()
I think if Percy Tau completes his Brighton move, South Africa might explode!
We Are Brighton ()
Good luck to Jayson Molumby, who has moved on loan to Preston until the end of the season. #BHAFC had earlier today turned down a big money bid from Millllllllllllllllllllllll, who wanted to sign the midfielder permanently Still no news on Percy Tau 😬
Londer ()
Percy Tau is going back to England,Pack your bags comrades we are heading to England
The Sad Guy😕 ()
Everyone is excited to see Percy Tau going back to the Premier League. With Club Brugge, that was his last time going go the Champions League🤞🏾
Just_Prince14 Sports⚽⚽ ()
What a twist to the story of Percy Tau. Spent two-and-a-half years in Belgium on loan, but now his dream of playing in the Premier League is about to come through. The lesson is to not stop chasing your dreams/goals regardless of the setbacks 👏👏 👌👌🇿🇦🇿🇦⚽️⚽️❤❤👇👇👇👏👏
Wayy2rare✝️ ()
percy tau been my motivation since i returned to football and i wish him well in the Premier league.
Wisani ()
I just started following @OfficialBHAFC Lets take over their page mzansi For the love of the LION KING PERCY TAU
Kagiso SoulLab* ()
Last night 17 years old Kgaogelo Chauke was on Southampton bench against Liverpool. Now we wait for Percy Tau at Brighton. 🙌🏾
Dima ()
EPOCH POLISHING BAR Kiss uneven skin tone, dark spots, pigmentation blemishes and OILY SKIN goodbye 📲 WhatsApp me 0749777590 Percy Tau Tanzania covid 19 #CAFCL
YT: Rito Ria Sambo ()
Eucalyptus Oil for R65. 100% Pure and Natural Eucalyptus Oil. 📍Pretoria Wonderpark 📞 0744268810 🚘 Delivery available(Paxi) Steam, Inhale, Bath, Rub or Massage with it. It prevents flu. Helps with Sinuses. Relieves pain. Ndlozi | Percy Tau | NSFAS #GirlTalkZA #GirlsTalkZA
Ashley Serakalala ()
When Percy Tau goes back to @OfficialBHAFC All South Africans do the same ❤️🙌🦁🦁
Babi Doll ()
So happy that Percy tau will soon be playing in the English Premier league. I think my next trip should be to go to London. #percytau
Scapegoat ()
Percy Tau on verge of getting work permit to finally play in England for Brighton via @citypress
Big Xhosa ()
Percy Tau is finally going to play in the Premier League 😭😭😭
Kick Off ()
Percy Tau was a notable absentee from Anderlecht training on Monday as his Premier League dream draws closer. Full story ➡️