Thiem Twitter Trend : Most Popular Tweets | Worldwide
THIEM RETURNS TO THE FINAL! With his 300th career win, 🇦🇹 @ThiemDomi beats Djokovic 7-5, 6-7(10), 7-6(5) to make it back-to-back finals at the #NittoATPFinals 👏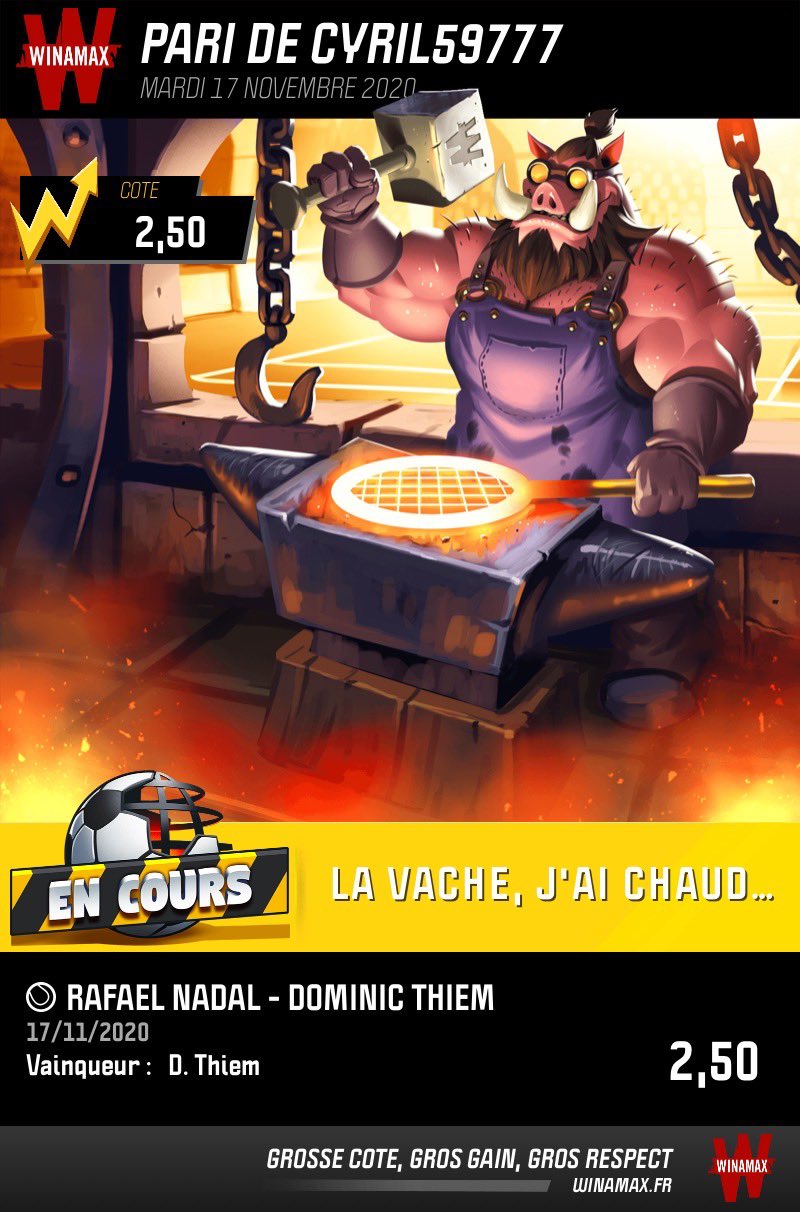 Thiem on Twitter
ESPN Tenis ()
#TENISxESPN Dominic Thiem se animó a imaginar cómo será el futuro del tenis cuando no esté el Big Three.

All India Radio News ()
Dominic Thiem beats Novak Djokovic to reach title match at #ATPFinals
TENNIS ()
The final matchup of 2020! 🇷🇺 @DaniilMedwed vs. @ThiemDomi 🇦🇹 1️⃣ Thiem leads their H2H, 3-1 2️⃣ Medvedev is 6-0 vs. the Top 10 at his past two events 3️⃣ Both players beat Djokovic and Nadal this week 10 things to know in our #NittoATPFinals
Jake Davies ()
Thiem vs Medvedev is going to be a fab final. To be honest I would have been pleased with whatever final we were served out of the four players that were left.
BBC News (UK) ()
ATP Finals 2020: Daniil Medvedev beats Rafael Nadal & Dominic Thiem overcomes Novak Djokovic
Donuts Dimes ()
Tennis 🎾 ATP: Nadal/Medvedev o24 (+101)(1u)💵 Djokovic/Thiem (+104)(1u)💵 Both go 3 sets, these matches have been a treat.

The Guardian ()
Dominic Thiem topples Novak Djokovic at ATP World Tour Finals
9-7 in the 5th ()
Not only he could have closed the match but he could also have done it in half the time of what Thiem closed
MARCA ()
EN DIRECTO #NittoATPFinals | ¡Primer set para Nadal! A un set de vérselas mañana con Thiem en la final de un torneo que no ha ganado nunca #VamosRafa
José Morgado ()
Dominic Thiem is the 2nd ever player to have at least 5 wins against all members of the Big 3. The other one is Andy Murray. 5-2 vs Federer 6-9 vs Nadal 5-7 vs Djokovic
US Open Tennis ()
An instant classic 👏 Dominic Thiem defeats Novak Djokovic to claim his 300th Tour-level win and reach the singles final in London! @ThiemDomi | #NittoATPFinals
ATP Tour ()
THIEM RETURNS TO THE FINAL! With his 300th career win, 🇦🇹 @ThiemDomi beats Djokovic 7-5, 6-7(10), 7-6(5) to make it back-to-back finals at the #NittoATPFinals 👏
José Morón ()
No, el primer factor que se tiene en cuenta si dos jugadores están empatados a victorias es el enfrentamiento directo y Thiem ganó a Nadal el otro día.
Donuts Dimes ()
Tennis 🎾 ATP: Rublev/Thiem (-119)(1u)💵 Glad to see Rublev get out of the Finals with a win.
ATP Tour ()
Great way to end a great season 👏 🇷🇺 @AndreyRublev97 defeats Thiem to finish his 2020 in style at the #NittoATPFinals
Tennis TV ()
RIP this tennis ball 😳 Enormous 25-shot rally between Rublev & Thiem! #NittoATPFinals
Jimmy D ()
Thiem tanked. I was wrong. I thought he would back up that insane level and go for the undefeated prize purse at this tournament. Not nearly the tennis in the legs that he had last year so figured with the amount of tennis he plays normally on tour he would give it a go today
El Comercio ()
Dominic Thiem sobrepasa su límite para doblegar a Rafael Nadal en Finales ATP
Cooperativa ()
Thiem venció en un frenético partido a Nadal y quedó a un paso de las semifinales del Masters
Tennis TV ()
Thiem work makes the dream work 🤩 @ThiemDomi wins a #NittoATPFinals blockbuster 7-6 7-6 vs Nadal to move to the top of Group London 2020!
José Morgado ()
What a performance. Dominic Thiem saves 2 SPs in the 1st set, comes back from a break down in the 2nd set and beats Rafael Nadal in one of the best matches of 2020, 7-6(7), 7-6(4). He has one foot in the semifinals of the ATP Finals. [getty]
We Are Tennis France ()
💥 Place au CHOC Thiem - Nadal au Masters ! Rafa va t-il réussir à se qualifier pour les 1/2 finales pour la 1ère fois depuis 2015 ? (🎥 @tennistv)
Amazon Prime Video Sport ()
Rafael Nadal, that is outrageous 😱 The Spaniard limbered up for his #NittoATPFinals match 🆚 Dominic Thiem in 𝙛𝙞𝙣𝙚 style Watch it live now on #PrimeVideo
US Open Tennis ()
Five-setter? Deciding tiebreak? Nadal AND Thiem?! We love this match and we know you do too. Who will win the next encounter between these two US Open champions at the #NittoATPFinals?
Unibet France ()
🎾 Gros bras de fer à prévoir entre Nadal et Thiem dans le premier set ? Parie et profite de ton match sur Unibet TV 📺 #ATPFinals
ESPN Tenis ()
Por primera vez, y tras 14 enfrentamientos, Nadal 🇪🇸 y Thiem 🇦🇹 se enfrentarán en una pista dura bajo techo. ✅ Rafa podría clasificarse a semifinales con una victoria en sets corridos, sin depender de otros resultados. #TENISxESPN
Betclic France ()
⚡️ FLASHBOOST #ATPFinals 🔥 Nadal et Thiem ne laissent rien passer en début de match ? On booste la cote Score après 4 jeux de service : 2-2 à 2,10 🚀 ➡ Mise max : 10€ / 2 000 premiers joueurs / Pari simple uniquement 🎁
ESPN Tenis ()
¡Qué duelo se viene para cerrar la jornada diurna de las #ATPFinals! Rafa Nadal y Dominic Thiem en una batalla por el liderazgo del Grupo Londres 2020. 🇪🇸🆚🇦🇹 #TENISxESPN
ATP Tour ()
A statement win for @RafaelNadal 👏 Next up: Dominic Thiem 📹: @TennisTV | #NittoATPFinals | #ATPTour
ATP Tour ()
Thiem turns the tables 🔄 A big win for @ThiemDomi to open his #NittoATPFinals campaign! 👏 📹: @TennisTV | #ATPTour