Tiger Woods Twitter Trend : Most Popular Tweets | Worldwide
20 years after the famous Tiger Slam, Woods' absence looms, but his legacy is undeniably present. #themasters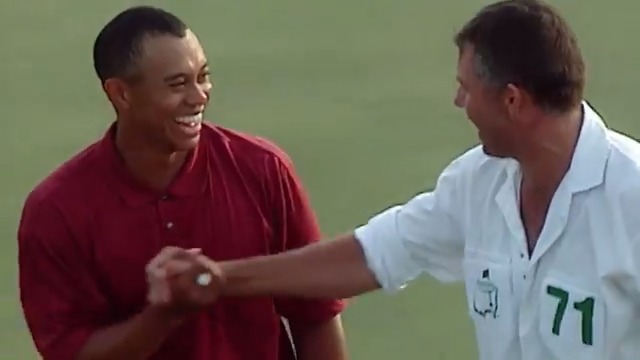 Tiger Woods on Twitter

Bloomberg Quicktake ()
Tiger Woods was traveling as fast as 87 miles per hour, nearly twice the speed limit, before a car crash in Los Angeles that injured the golf star in February

TIME ()
Tiger Woods was driving more than 80 mph — nearly twice the posted speed limit — on a downhill stretch of road when he lost control of an SUV and crashed in a wreck that seriously injured the athlete, authorities said
J ()
Tiger Woods Final Putt and Celebration at the 2019 Masters Tournament via @YouTube Jim Nantz
Ariana Wells 🇺🇸🚴🏇🏃🏌️🤸⛹️🤾🏄💋 ()
I love Tiger Woods but he was foolish to drive at a speed of 87 Miles per hour on a road requiring 45 miles per hour 😬
FOX Sports MX ()
TERMINÓ LA INVESTIGACIÓN #CentralFOX La conclusión a la que llegaron las autoridades por el accidente de Tiger Woods: Ir a exceso de velocidad
FOX Deportes ()
Las autoridades informaron sobre el incidente de Tiger Woods.
Rappler ()
Tiger Woods may have hit the accelerator instead of the brake in a high-speed crash, , the Los Angeles County Sheriff's Department said.

⛑️Car Helmets⛑️ ()
Funny how often We may never know what caused the accident invariably turns out to be Dude was clearly going twice the legal limit while heading into a turn with his eyes firmly glued to his phone.

Justice4all ()
But never hit brakes. Tiger Woods drove nearly twice the speed limit in crash, but not impaired, officials say via @nbcnews

New York Post ()
This Masters can be memorable without Tiger Woods
New York Post Sports ()
This Masters can be memorable without Tiger Woods
O Tempo ()
Polícia diz que acidente de Tiger Woods foi provocado por excesso de velocidade

Daily Mail US ()
Cops say Tiger Woods will receive NO citation despite crashing at 87MPH in 45mph zone
Observador ()
Tiger Woods seguia a 140 km/h onde limite é 70. Reveladas as causas do acidente
LAWWD IMA LEGANDARY ()
Since when did my driving record have any bearing on Tiger Woods driving almost twice the speed? Ima fan Recently, he played in a competition w his son—want them to do this often. to achieve this, his erratic driving must have intervention Driving is a privilege, not a right
Altan Insights ()
The '1996 SI for Kids Tiger Woods Card' (PSA 10) @CollectableApp has received a buyout offer of $34,500 ($). The asset IPO'd on 2/28/21 with a market cap of $23,500 ($10/share). If accepted, the offer would represent a ROI in 40 days. 48 ⏳
TheRealBillM🇨🇦🇨🇦🇨🇦eh! 👀 ()
Tiger Woods was travelling more than double the speed limit when he rolled his shit.
Marie Papachatzis, M.A. LE/I Am THE Makeup Junkie ()
Let's see. Tiger Woods going almost 90 mph and acting "dazed and confused" at the crash scene = no ticket. Special treatment? 🤔
NeverStopResisting😷❤🤍💙✌💫 ()
Driving at least 85 mph in a 45mph speed zone makes you an asshole. No if, ands or buts about it. Thus, Tiger Woods is an a$$hole.
Primicias ()
El exceso de velocidad fue la causa principal de un accidente automovilístico que involucró al golfista Tiger Woods, en febrero, en Los Ángeles. »
Los Angeles Times ()
An investigation into the crash that seriously injured Tiger Woods found that the golfing great was traveling at almost double the posted speed limit But officials said they will not cite Woods with speeding.

People ()
Tiger Woods Was Driving Over 80 MPH in a 45-MPH Zone at Time of Car Accident, Sheriff Says #PEOPLEtheTVShow
New York Daily News ()
Tiger Woods was driving his SUV 84-87mph in 45mph zone—officials blame his LA rollover crash on 'unsafe' speed They insisted Woods, 45, didn't receive preferential treatment. No blood test was given. Woods was charged with DUI in 2017. @petersblendorio
Carrusel Deportivo ()
🇺🇸⛳ El sheriff del Condado de Los Ángeles comunicó hoy en rueda de prensa lo sucedido en el accidente de Tiger Woods

The Associated Press ()
BREAKING: Excessive speed caused Tiger Woods to crash his SUV near Los Angeles in February, leaving him seriously injured, sheriff says. The golfer was driving 84 to 87 mph on a downhill stretch of road that had a speed limit of 45 mph.
FOX 11 Los Angeles ()
#BREAKING: Authorities said professional golfer Tiger Woods was driving 84-87 mph in a 45 mph zone when he crashed his SUV in Rolling Hills Estate back in February.
Jon Passantino ()
LA County sheriff says Tiger Woods was driving about 84-87 mph in a 45 mph zone before he crashed in Palos Verdes. Sheriff's officials say Tiger didn't hit the brakes and may have inadvertently hit the accelerator
Jonathan Lemire ()
LOS ANGELES (AP) — Sheriff: Excessive speed caused Tiger Woods to crash SUV near Los Angeles, golfer was driving over 80 mph in 45 mph zone.

ESPN ()
Augusta National has a long memory. It remembers those who have added to its legacy and no one has done that more often than Tiger Woods. 𝗔𝗯𝘀𝗲𝗻𝗰𝗲 𝗮𝘁 𝗔𝘂𝗴𝘂𝘀𝘁𝗮 by @GenoEspn:
The Masters ()
20 years after the famous Tiger Slam, Woods' absence looms, but his legacy is undeniably present. #themasters