Tiger Woods Twitter Trend : Most Popular Tweets | Worldwide
Tiger Woods' vehicle after the crash this morning that now has him in surgery for what his agent is calling "multiple leg injuries."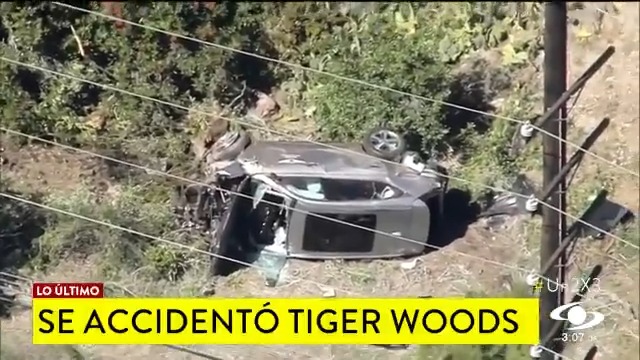 Tiger Woods on Twitter

The Washington Post ()
Tiger Woods is recovering from surgery for multiple open fractures in his leg
El Diario - Manabita ()
#DEPORTES: El mundo del deporte se vuelca con Tiger Woods ►►
🎼🎤🎵Purple Hayes🎵🎤🎼 ()
OK, I understand - Tiger Woods was in a car accident. Can we get back to news on my fu¢ked up Country please?
MSNBC ()
Tiger Woods is awake, responsive and recovering in his hospital room, after having a rod surgically put into his leg following a rollover car crash in the Los Angeles area, his team says Tuesday night.
B. Dolan ()
I cannot believe how much coverage @CNN is giving to Tiger Woods. Simply in shock. There was like a 6 hour hearing about the white supremacist coup attempt yesterday. Dude broke his ankle. Wat is gulf.

FOX59 News ()
Tiger Woods faces hard recovery from significant injuries in car crash, but according to a statement on his Twitter account -- he is awake, responsive and recovering. #FOX59Morning
AajTak ()
कैसे बदल गया टाइगर वुड्स पूरा करियर ! #TigerWoods .
Megavisión Deportes ()
El golfista estadounidense Tiger Woods resultó gravemente herido y hospitalizado tras un accidente automovilístico en Los Ángeles, California. El 82 veces ganador del PGA Tour sufrió lesiones graves en ambas piernas y se sometió a una cirugía después de ser trasladado del lugar.
YAFM ()
Good afternoon. As happens when Monday is a holiday we lose track of days. So allow me to say today its Wednesday. Yesterday I believed in the power of brand personality. When Tiger Woods had his accident,, even covid became a distant third in news cycles.
Sports Pundit ()
Emergency Surgery But Tiger Woods Awake After Horror Crash. Fifteen-time #golf

Maysoon ()
I literally don't give a shit about Tiger Woods condition my god can the news go back to covering the insurrection and Joe manchin's racist misogyny
David Griffiths ()
Trump Shows More Urgency Responding To Tiger Woods' Car Crash Than The Capitol Attack via @politicususa
France tv sport ()
De ses multiples opérations du dos à un come-back incroyable en 2019, retour sur les douze dernières années agitées de Tiger Woods 👇
BBC World Service ()
Celebrities rally round Tiger Woods as the sportsman suffers serious car crash injuries
ABC Deportes ()
Tiger Woods, operado de ambas piernas tras sufrir un grave accidente de coche
Roger Agambire Agana ()
Professional golfer Tiger Woods injured in car accident in Los Angeles
Andre Herring Art ()
Fuck tiger Woods, Tiger Woods injured after roll-over car accident
Nairobi Page⏺️ ()
Firirinda #RailaTheTraitor Sifuna Tiger Woods #TinaKaggia Luos Uhuruto MCAs
Mustafa Kemal Atatürk ()
Golf camiasının sevilen ismi, değerli sporcu Tiger Woods beyefendiye geçmiş olsun dileklerimi iletirim.
MiBrujula ()
Tiger Woods sufre un grave accidente de coche cerca de Los Ángeles. Vídeo de la zona del accidente y cómo quedó el coche
Andrew Wiggins ()
Tiger Woods escaped with his life. We escaped from our grief - Los Angeles Times
Jim Sciutto ()
LA Sheriff is briefing the press 8 *hours* after Tiger Woods car crash. FBI & DOJ first briefed press 6 *days* after deadly Capitol insurrection.
Tomaz ()
#BolsonaroTemRazao Tiger Woods sofre acidente grave de carro e está internado em hospital de Los Angeles
Chris Harrop ()
Nobody: Absolutely no one: Not a single soul: OK, there might be one or two TMZ freelancers who need this Tiger Woods: Hold my beer.
Noticias Caracol ()
#LoÚltimo | El golfista Tiger Woods fue hospitalizado tras sufrir un accidente automovilístico en Los Ángeles, #California. Primeros reportes indican que sufrió múltiples lesiones en las piernas
Subhash Gottumukkala ()
Woods in surgery after car crash Tiger Woods is in surgery after suffering multiple leg injuries in a car crash in Los Angeles,
Kristan ()
Hey @MSNBC - tiger woods is certainly a sad situation. Don't you think it serves the public to continue showing the hearings happening on Capitol Hill today? STOP the tabloid journalism #msm

Adam Schefter ()
Tiger Woods' vehicle after the crash this morning that now has him in surgery for what his agent is calling "multiple leg injuries."

SportsCenter ()
Tiger Woods was injured Tuesday in a single-car crash near Los Angeles, according to LA County Sheriffs. Emergency personnel extricated Woods from the vehicle using the "jaws of life." He was taken to a local hospital for his injuries, and his condition is unknown at this time.

Bleacher Report ()
Tiger Woods has been hospitalized after being involved in a single-car crash, the @LASDHQ announces. Firefighters and paramedics used the "jaws of life" to get Woods out.