Van Dijk Twitter Trend : Most Popular Tweets | Worldwide
First time Van Dijk has missed a minute of PL football for #LFC since Huddersfield Town away in January 2018.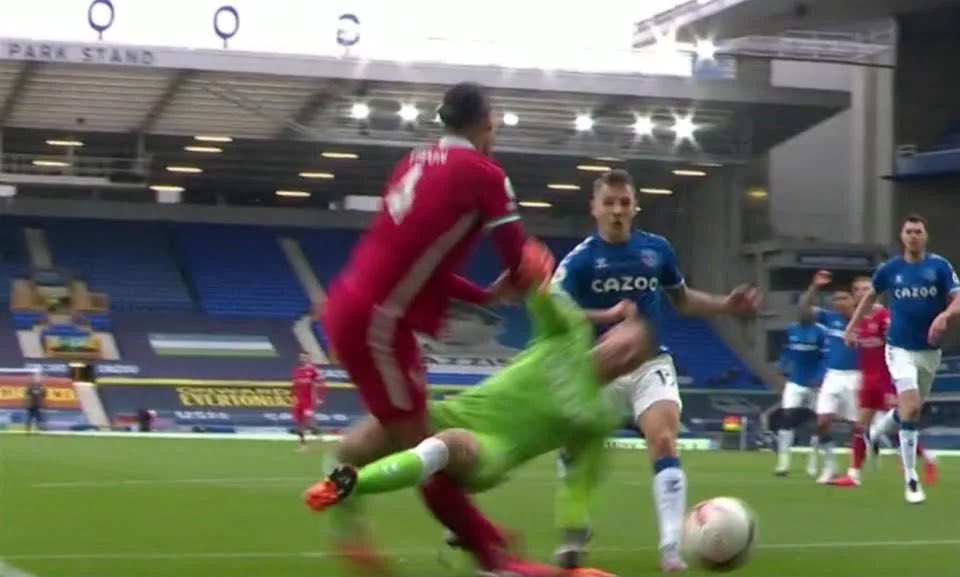 Van Dijk on Twitter
Mahbubur Rahman ()
Virgil van Dijk has suffered an ACL injury & is set to be out for 7 to 8 months according to beIN. Get well soon @VirgilvDijk
Sisi😍⚽️ ()
@lacunha23 Eu sou fã demais do Henderson Ele faz diferença demais no time, igual o Van Dijk.
Dmfootball ()
@sammatterface has any update came out on the type of injury or severity van Dijk has on the knee?
Mirror Football ()
BREAKING Jurgen Klopp provides Virgil van Dijk injury update after Merseyside derby horror tackle
John Berger ()
@ArseCannonPics @mrdanwalker So are they using the technology correctly? Seems like they drew the line from Van Dijk's elbow.

KrispyKreme ()
@brent_pratley Exactly, why on earth would the ref not just check for himself when van dijk was down for over 3 minutes.
Si Williams ()
Van Dijk trying to kick our forwards off the park early doors. Such a shame he got fucking smashed by Pickford 😂😂😂
Steve Cañete ()
@DaveEnglishh How is that Pickford can play next match and Van Dijk has the potential to be out. Pickford was saved by VAR twice
OfficialMo ()
Karate 🥋. He could of ended Van Dijk career today with that tackle🤦🏽‍♂️ clown 🤡 ref
Euro Fut | Futebol Europeu ()
Como crer que o Everton vai brigar pelo título quando eles pegam o concorrente em casa sem Alisson e van Dijk e mesmo assim são superados?
Φοίβος ()
@NBCSportsSoccer just confirmed the #VAR didn't even check for serious foul play when Pickford injured van Dijk. What an absolute joke officiating so often is in a league that professes to be the biggest in the world.
Jake Rose ()
@SkyBet why have you voided this bet after Van Dijk's tackle in the first half?
Gonzalo Carol ()
Muy meritorio lo del Liverpool, aguantando con uno menos desde la salida de van Dijk.
Guillermo Cancino ()
Van Dijk leaves Merseyside derby after suffering early injury
Chelsea Canada🇨🇦(in NYC🗽) ()
This focus on the Van Dijk challenge is absolutely maddening. Pickford didn't chop his damn leg off? Minute 74 and they are STILL lobbying for it. Give it a break, boys. #EVELIV
Jarrod ()
No van dijk an we don't even try attack them , villa showed how to beat them an we just sit back fuck off

James Pearce ()
First time Van Dijk has missed a minute of PL football for #LFC since Huddersfield Town away in January 2018.
Alex Dedé ()
Tô trabalhando hj, abri o twitter pra ver sobre o jogo e: O Pickford deu uma entrada criminosa no Van Dijk e machucou ele Adrian já frangou DAI É FODA né
Hasan Özsoy ()
Van Dijk's injury to change everything in the game. That creates an opportunity for Calvert-Lewin to take the ball more easily and keep the ball until the team coming from behind. I wouldn't have wanted his injury but I think that makes the game more delightful. #EVELIV
Independent Nigeria ()
Van Dijk Taken Off With Injury After Horror Tackle From Pickford
Tomás Vettelista ()
@pauuustt Te perdiste los goles de Mane y Keane, las lesiones de Van Dijk y Coleman, las cagadas de Adrián y Gómez. Listo, resumido (? Ah, y juega Thiago 😍

Mmmbop ()
@FARefereeing thoughts on the pickford challenge on van dijk? Since it wasnt a foul in the eyes of the referees, does it now legitimise dangerous play on offisde players?
ذكري 🇲🇾 ()
Van Dijk and Allison injured so it is done for them . Thats it .
Diario Olé ()
❗️ La criminal patada a Van Dijk: preocupante lesión y ni falta
* ()
Been disappointed by Everton approach by relies on counter attack rather than playing like usual. They front 3 have quality to create problem to Liverpool defence especially without Van Dijk & Alisson
Osman Bonfim -- Deus no controle nº1! 🇧🇷🙏🏽 ()
@EvertonBR_News Olha que coisa: O Liverpool perde, se não o zagueiro mais importante, um dos zagueiros mais importantes do time, Van Dijk, ja o Everton perde um dos zagueiros mais importantes do time, o Coleman.

Toffee News ()
Merseyside derby drama: Van Dijk suffers injury, Pickford avoids red - #EvertonFC #EFC
أحمد ()
Liverpool are definitely not going to find it easy this season. Van Dijk has been taken off due to injury #EVELIV
Abdullah ⚡️ ()
Pickford's greatest achievements - That penalty shootout Vs Colombia - Injuring Van Dijk #EVELIV #MerseysideDerby
Sander_AFCA🇦🇷 ()
Geen Van Dijk en Alisson scheelt echt en hele hoop ik heb er en klein beetje vertrouwen in maar eerst zelf morgen #AJAhee #AJAliv